We have winner of the integrated fare raffle - JANUARY 2020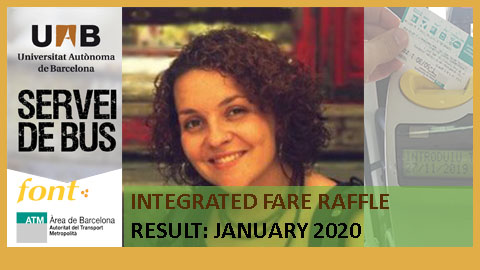 Public Transport - UAB bus
20/02/2020
The winner of gift card Amazon (200€),

in the framework of integrated fare raffle,

has been

CARLA ESTEVAN

UAB's PAS

Raffle: January 2020

Carla validated with a 1-zone T-Usual card, used in January 16 in Line 1.

Carla's comments:
Valido simplement porque leí que así la UAB recibía dinero para poder mejorar el servicio de bus y mantenerlo gratis, y no costa nada hacerlo.
Ans remember,
validating is not paying.
UAB Bus is still fully managed by UAB and is
free,
if you take the train, after o before the bus. If you take the bus to move inside Campus is not necessary to validate.

Your collaboration on validating, which means no added cost to you, helps UAB to recover part of the money invested on the service and dedicate them to the improvement of mobility.
It is necessary to keep the card even if it has expired.
The more you validate the more opportunities you have!
More information here.