The UAB invites its members to discover plants and animals on campus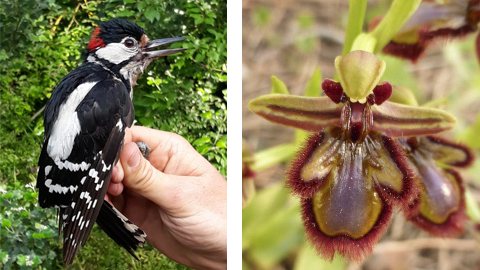 The first Bioblitz UAB will take place on 6 and 7 May, with expert scientists offering guided visits around campus to members who will be able to discover different species up close. This free event includes a number of activities, such as observing how birds communicate with each other, a camera trap for monitoring small mammals, and a night route to view and study bats. Applications are open until 3 May.
27/04/2022
The Universitat Autònoma de Barcelona (UAB) will be holding on 6 and 7 May its first campus Bioblitz, an open citizen participation initiative which aims to register the largest number possible of plant and animal species living in these natural surroundings. Applications are now open for this free event, which represents a great opportunity to discover more about the biodiversity surrounding the campu and enjoy learning from experts in field biology, who will be showing participants how to recognise and study the species they find.
Participants will be able to collaborate in looking for samples of different groups of plants and animals, and learn ways in which to study the nature that is often difficult to get to know so up close. The activities taking place will focus on reptiles, mammals, birds, snails and slugs, butterflies, lichen and orchids; there will be night walks to observe bats, amphibians and fireflies, walks to discover how birds communicate vocally, and a camera trap activity aimed at monitoring smaller mammals.
The UAB campus is located in the town of Bellaterra and measures approximately 260 hectares. One of its characteristic traits is the agroforestry mosaic with a diversity of environments, riparian, pine tree, holm oak woodlands, streams, fields, etc. This diversity makes it possible for a large variety of organisms to coexist.
"Even though it is a place with a lot of human activity, it is very interesting at ecological level, because it is a space connecting the two coastal and pre-coastal moutain ranges. Conserving this natural area is therefore of utmost importance to secure the viability of animal and plant populations living in the different natural parks and agroforestry areas", explains Sandra Saura, researcher at the Department of Animal Biology, Plant Biology and Ecology at the UAB and at CREAF, and coordinator of the Bioblitz.
All of the programmed activities will begin at the Plaça Cívica.
What is the objective of the UAB Bioblitz?
The Bioblitz are scientific citizen participation events aiming to register as many living species as possible in and at a specific place and time. Citizens contribute with observations to the enrichment of the biodiversity databases used in research.
The UAB Bioblitz forms part of a biodiversity and sustanability campaign on campus entitled Sensibilització i recerca per transformar educant i incidint per la millora de la biodiversitat i la sostenibilitat al campus de la UAB, coordinated by Sandra Saura. Its main objectives are to disseminate the ecological importance of the University campus, as well as manage the campus in a way to best conserve its ecology. The data obtained will help in diagnosing the biodiversity as a starting point for this project and will be essential when taking decisions on how to improve conservation efforts. This data will be shared and updated through an app.
The UAB Bioblitz is funded by the Fundació Autònoma Solidària (FAS), in collaboration with the Office for the Environment, the Faculty of Biosciences, and the Department of Animal Biology, Plant Biology and Ecology, and CREAF.
Application form (open until 3 May):
https://eformularis.uab.cat/web/mediambient/inscripcio_bioblitz
Link to the programme and description of some of the activities:
https://www.uab.cat/doc/Programa1erBioblitzUAB_ca
This information is related to the following SDG