ICTA-UAB Winter Symposium 2022 
We are glad to invite you to the Winter Symposium 2022,which will take place on the1st and 2nd of December 2022 at ICTA-UAB (Z-022/Z-023).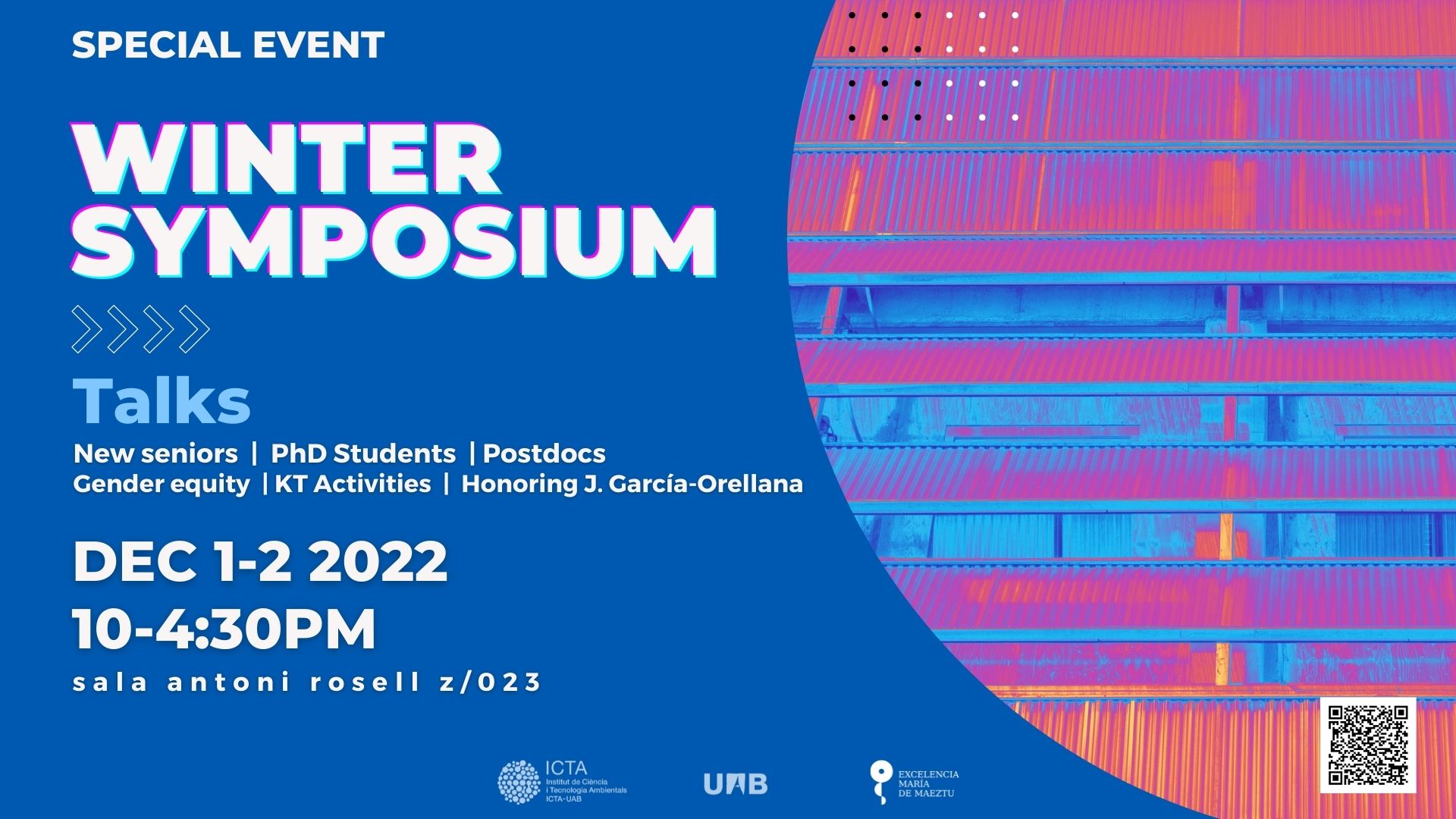 The event is an opportunity to foster social gathering, to present results of research projects carried out by PhD and post-doctoral fellows and to give visibility to knowledge transfer activities organized by ICTA-UAB researchers in 2022. A tentative programme is provided below.
ICTA-UAB WINTER SYMPOSIUM

Date: Thursday 1st and Friday 2nd December 2022
Time: From 10h to 16.30h
Venue: ICTA-UAB

Program
DAY 1 (01.12.22)  

GETTING TO KNOW ICTA-UAB'S NEW SENIORS 

10:00 - 10:10     WELCOME words by ICTA-UAB and MdM Directors 
10:10 - 10:40     Elia Apostolopoulou, Ramon y Cajal senior fellow  
10:40 - 11:10     Dan Brockington, ICREA Research Professor, ERC Advanced Grant "Conservation Data Justice"  
11:10 - 11:40     Umberto Lombardo, ERC Consolidator Grant "Drivers of Demographic Dynamics"  

11:40 - 12:00     Coffee break   

TALKS BY EARLY CAREER RESEARCHERS 
 12:00 - 13:40   Short talks (10 minutes) by PhDs
BREAKS
GENDER EQUITY POLICY

13:40 - 14:15 Isabelle Anguelovski (Gender Equity Policy)
14:15 - 15:30     Lunch   

REPORTING ON RESEARCH WORKSHOPS AND KNOWLEDGE CO-PRODUCTION ACTIVITIES
15:30 - 16:30 Presentation of the experiences and main results of the workshops funded by the MdM programme
DAY 2 (02.12.22)  

TALKS BY POSTDOCTORAL FELLOWS (individual grants)
10:00 - 10:10    Overview of post-doctoral research programmes 
10:10 - 11:10    Talks by postdocs (of competitive individual grants)
11:10 - 11:40    Q&A session on competitive grants for postdocs 

11:40 - 12:00     Coffee break   

TALKS BY POSTDOCTORAL FELLOWS (project-funded) 
12:00 - 14:00   Talks by postdocs (of funded projects) 
14:00 - 14:15 Patrizia Ziveri, Honoring Jordi Garcia-Orellana 
14:15 - 15:30     Lunch