Hickel to discuss limits to growth with Ursula von der Leyen
ICTA-UAB researcher Jason Hickel will be one of the speakers at the opening plenary of the "Beyond Growth 2023 Conference" together with the President of the European Commission, Ursula von der Leyen and the president of the European Parliament, Roberta Metsola.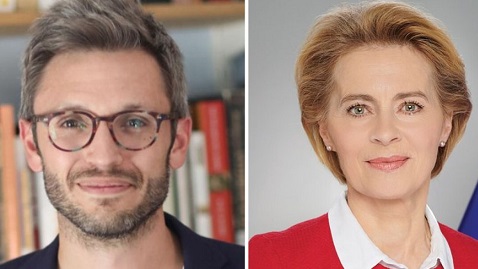 The event will take place on May 15th in the European Parliament in Brussels, and will also involve the participation of the Member of the European Parliament, Philippe Lamberts, the Co-president of the Club of Rome, Sandrine Dixson-Declève and the Climate Justice and Human Rights activist, Adelaïde Charlier.
The opening plenary "Limits to Growth: where do we stand and where do we go from here?" will identify the main issues raised by the growth and planetary limits' nexus that we need to address to shift our economic model.
The event will kick-off the "Beyond Growth 2023 Conference", a multi-stakeholder event aiming to discuss and co-create policies for sustainable prosperity in Europe, based on a systemic and transformative approach to economic, social and environmental sustainability and its encompassing governance framework. Live streaming will be available.
The Beyond Growth 2023 is an initiative of 20 members of the European Parliament from five different political groups and supported by over 50 partner organisations. Its objective is to come out with policy proposals and create a shift in how our society can move beyond the approach of national GDP growth being a measure of success. This will require an overhaul in the EU and national levels in our approach to economics, social and environmental policy and governance.
Our ICTA-UAB researcher, Giorgos Kallis will also be participating in the focus panel entitled "Inequalities in a beyond growth perspective: taxation as an instrument of ecological and social justice". The session will also be held on May 15th at 14.30h, and will look at social and environmental inequalities and what policies would be necessary to achieve social and environmental justice in a beyond growth economy, with a focus on taxation