European project JustWind4All to accelerate the transition to wind energy
New European project JustWind4All involving ICTA-UAB researchers will work to accelerate the transition to wind energy through innovative governance practices.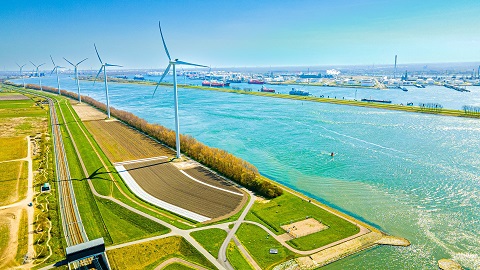 With the recently presented REPowerEU Plan, the EU has increased its sustainability target to an ambitious 45% of energy being renewable by 2030. To accomplish this, the EU will have to accelerate its production and use of renewable energy sources, and wind is expected to gain a significant portion of this new energy.
Such an acceleration of the deployment of on- and offshore wind requires that existing structures and processes in decision-making and citizen participation become more effective and just. This is where JustWind4All comes in, an ambitious initiative by a consortium of 12 European partners under the Dutch Research Institute for Transitions (DRIFT) leadership. JustWind4all considers that the acceleration of wind poses four challenges and the need for:
(1) Knowledge – Wind energy governance actors need to be better equipped with fit-for-purpose models and assessments for decision-making.
(2) Justice – Social disputes against wind energy need to be addressed by taking account of energy justice.
(3) Policy frameworks – They need to focus on the interrelation between governance levels to foster more coherent policy frameworks for wind energy.
(4) Novel resources – Resource potential across regions, practices, and technologies needs to be quantified (learning from previous experiences).
Wind Forum and wind labs
JustWind4All will establish a state-of-the-art Wind Forum: a platform to bring together relevant wind energy actors across Europe – offline and online – to meet, network, discuss and get into action. A specific feature is the collaboration in five Wind Labs, which will focus on specific regional challenges such as repowering, the introduction of airborne and floating technologies (financial), community participation and decision-making processes. Different outreach activities complement the Wind Forum to increase knowledge, social awareness and engagement – such as a wind energy governance leadership and training programme next to tailored events and webinars.
In the JustWind4All project, ICTA-UAB researchers will be responsible of developing modeling tools to assess the socio-environmental viability of energy scenarios. ICTA-UAB members participating in the project are principal investigator Cristina Madrid and pre-doctoral researcher Miquel Sierra.
Over three years, the project will create open access modelling tools and a wind energy governance toolbox including guidelines & business models for enhancing citizen participation and instruments for improving wind energy decision-making.
The Consortium
The consortium is made up of 12 organisations from nine countries:
Dutch Research Institute for Transitions BV based in the Netherlands

The University of Sussex based in the United Kingdom

FCiencias.ID - Associacao para a Investigacao e Desenvolvimento de Ciencias based in Portugal

Institute of Environmental Science and Technology at Universitat Autònoma de Barcelona based in Spain

Aarhus Universitet based in Denmark

Consensus, Komunikacije Za Odgovorno Druzbo, based in Slovenia. www.consensus.si

Applied Research and Communications Fund based in Bulgaria.

Renewables Grid Initiative EV based in Germany.

Power Parity S.A. based in Portugal.

Technische Universiteit Delft based in Netherlands.

Airborne Wind Europe, based in Belgium.

Institut für ökologische Wirtschaftsforschung based in Germany.