Workshop "Advancing quantitative analysis for alternative sustainable futures"
We are pleased to invite you to the workshop "Advancing quantitative analysis for alternative sustainable futures", which will take place at ICTA-UAB from the 28th to the 29th of June 2023. The workshop is funded by the María de Maeztu Unit of Excellence program.
The ongoing socio-environmental crisis necessitates profound systemic transformations. Such changes embody a postnormal science situation, characterized by high stakes, urgent decisions, uncertain facts, and pervasive value disputes. Within this context, there are diverse avenues through which scientific methods can inform the political process.
We will delve into the significance and prospects of models as valuable tools for envisioning sustainable societal trajectories that respect environmental limits while promoting societal well-being. Our discussions will primarily focus on advancing quantitative analysis by being reflective of our pre-analytical decisions, incorporating a diverse range of variables and scales, enhancing sectoral resolution, and exploring various scenarios to better inform transformative policy debates.
The workshop will facilitate the sharing and exchange of experiences and perspectives among researchers from various groups within ICTA-UAB, in addition to our esteemed guests from GEEDS. Through these collective reflections and discussions, our objectives are twofold: to deepen our understanding of the contextual backdrop of our work and to identify gaps in modeling practices while exploring opportunities for synergistic collaborations among different modeling perspectives.
Day 1 - Wednesday 28 June 2023
Venue: room Z/033 & online
9:15 – 9:30h: Welcome and introduction to the workshop1
9:30 – 11h: Invited plenary - Integrated Assessment Models: the experience of MEDEAS and WILLIAM models.
Luis Javier Miguel, Iñigo Capellán, & Jaime Nieto – GEEDS – Universidad de Valladolid
11 – 11:30h: Coffee
11.30 – 13.30h: Roundtable and open debate - Lessons learnt and the future of quantitative science for sustainability: experiences from ICTA-UAB researchers.
Cristina Madrid - Metabolism modelling: socioecological relations and Citizen Science: experiences from SENTINEL, LIVEN and SEEDS.
Laura Talens - Advances in database development to support environmental modelling: the case of DoSE-LCADB
Aljosa Slamersak - Modelling of post-growth transitions: Aims of the REAL project.
Raúl Velasco-Fernández - Metabolic pattern of societies through MuSIASEM and QST, experiences from EUFORIE and MAGIC
13.30 – 14.30h: Lunch
15:00 – 17.30h: Synergy meetings between ICTA-UAB and GEEDs researchers1


Day 2 - Thursday 29 June 2023
Venue: room z/023

9:00 – 11:00h: Synergy meetings between ICTA-UAB and GEEDs researchers1
11:00 – 12:00h: Plenary Session - Implications of complexity for quantitative analysis: innovative aspects of multiscale metabolic analysis
Mario Giampietro – ICREA Research Professor at ICTA-UAB
12 – 13h: Open debate - MuSIASEM and MEDEAS: epistemic differences between Quantitative Story Telling and Integrated Assessment Modeling
Suggested readings:
Giampietro, M. (2023). Multi-scale Integrated Analysis of Societal and Ecosystem Metabolism. In The Barcelona School of Ecological Economics and Political Ecology: A Companion in Honour of Joan Martinez-Alier (pp. 109-121). Cham: Springer International Publishing. https://link.springer.com/chapter/10.1007/978-3-031-22566-6_10
Capellán-Pérez, Iñigo, et al. "MEDEAS: A new modeling framework integrating global biophysical and socioeconomic constraints." Energy & environmental science 13.3 (2020): 986-1017. https://doi.org/10.1039/C9EE02627D
14:00 – 16.00h: Synergy meetings between ICTA-UAB and GEEDs researchers1
1To those interested in meeting with GEEDS researchers, please contact Iñigo Capellan: inigo.capellan@uva.es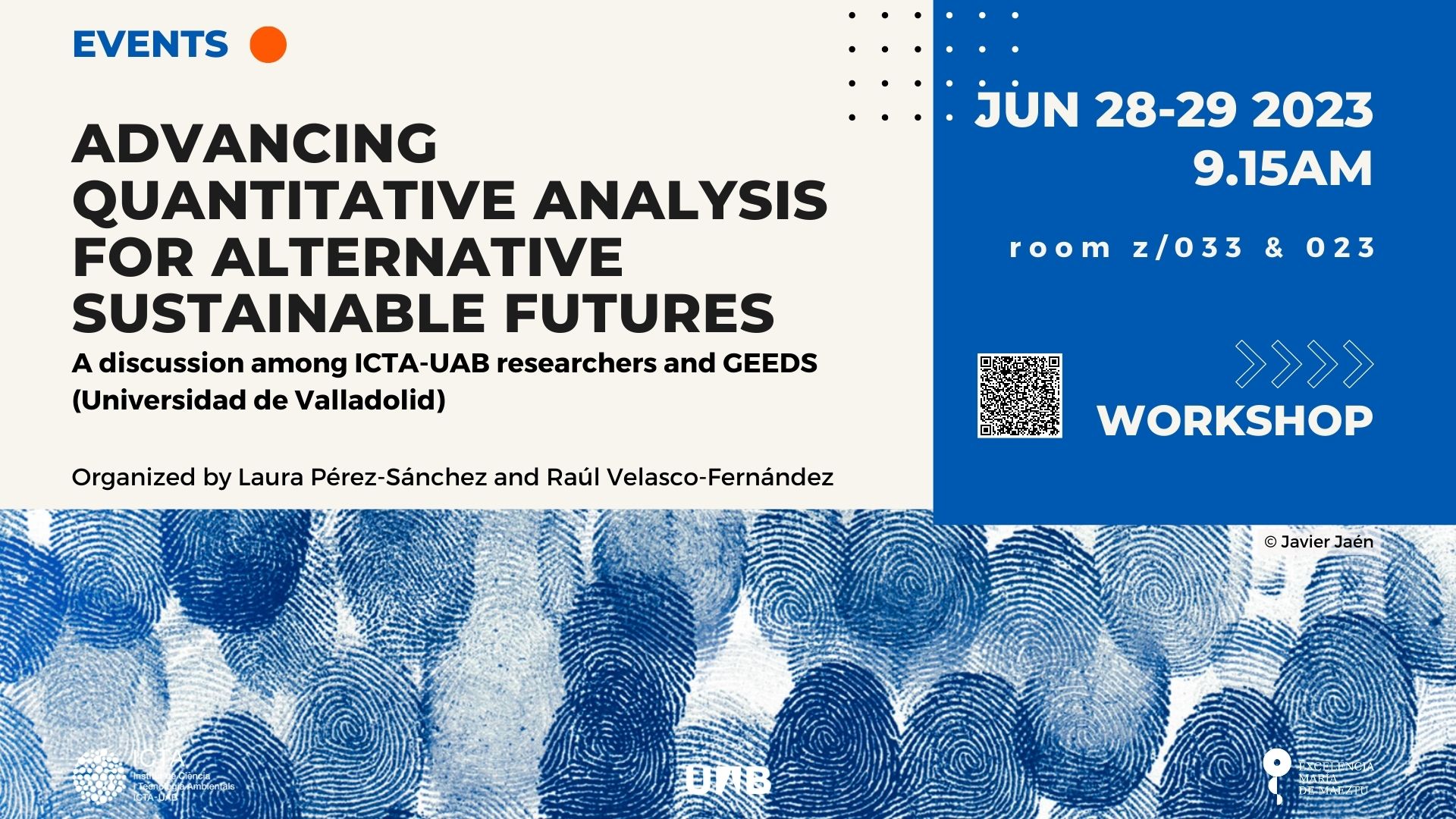 ​​​​​​​