ICTA-UAB Summer Day
We are glad to invite you to the ICTA-UAB Summer Day 2023. Although the final programme is not yet closed, we would like you to save the date to attend this event, which will be a great opportunity to give visibility to the initiatives launched in the framework of the María de Maeztu programme.
It will be a great occasion to introduce PhD and post-doctoral researchers working on the five Societal Challenges, and to foster social gathering. The event is open to all members of the ICTA-UAB community, and it will be followed by a collective summer lunch and social activities. Details of the programme will be announced in the coming days
ICTA-UAB Summer Day
Date: Thursday, June 22nd 2023

Tentative programme
9:30-11.00 Research highlights from 2022
Some of our colleagues will briefly the main highlights from their last year's concluded projects.
Prof. Xavier Gabarrell – Pandèmies project

Dr. Cristina Madrid – Sentinel project

Dr. Isabelle Anguelvoski – Greenlulus project

Dr. Gara Villalba – Protean project

Dr. Panagiota Kotsilla – Wego project
11:00-11:30 Coffee break

11:30-13:00 Meet the labs: introductory talks and in-the-lab visits 
The laboratories' commission and the Sostenipra group will guide a tour at ICTA to discover the secrets hidden in the labs of the third floor and the rooftop. 
13:00-14:00 What role for science in policy? 
Moderated by journalist Michele Catanzaro, this roundtable will explore how scientists and/or scientific evidence have supported the development of recent landmark environmental policy and institutions in Catalonia and Barcelona, including the climate change law, the strategy for the conservation of biodiversity and natural heritage, the Superblocks and "Eixos Verds" programs, and the Nature Conservation Agency.
14:00-15:30 Collective summer lunch!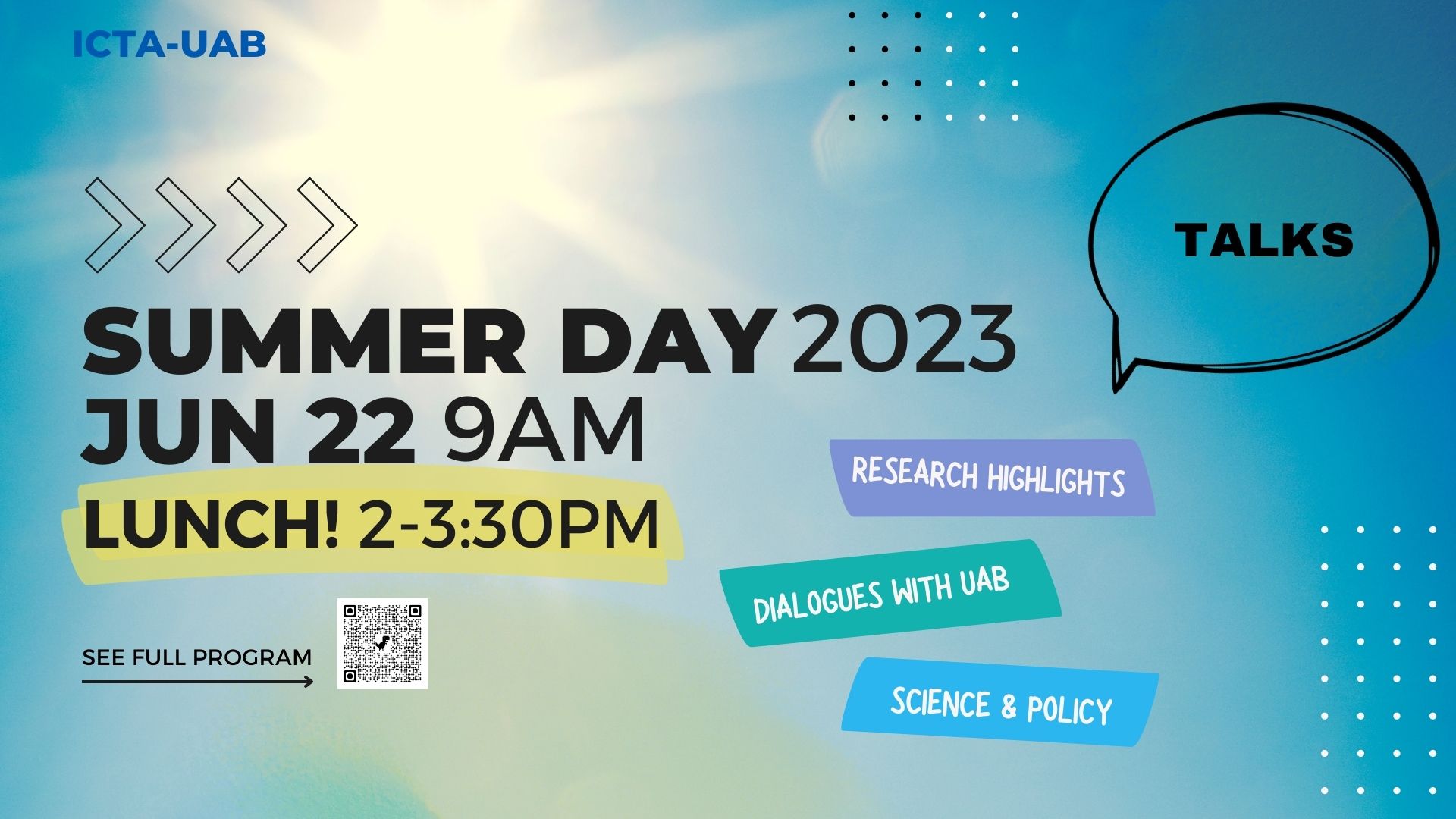 ​​​​​​​