2023 WINTER SYMPOSIUM
We are glad to invite you to the Winter Symposium 2023, which will take place on the 14th of December 2023 at ICTA-UAB (Z-022/Z-023). The event is a unique opportunity to share research highlights of the five Societal Challenges of the Maria de Maeztu programme, to present findings of research projects carried out by PhD candidates, and to foster social gathering. A tentative programme is provided below.
Winter Symposium

Date: Thusrday December 14th 2023
Time: From 9.30 to 15.30h
Venue: Room Z/022 and Z/023 ICTA-UAB

Tentative programme

09:30-09:45 Director's welcome
09:45-10:00 Symposium programme and an overview of ICTA-UAB's research
10:00-11:00 Research insights from OCEANS and LAND
11:00-11:30 Coffee break
11:30-13:00 Research insights from CITIES, CONSUMPTION and POLICIES
13:00-14:00 Lunch
14:00-15:30 Key research findings from Third and fourth-year PhD candidates (10' each)
Francesco Facchini: Intersectional coalitions towards a just agroecology: Weaving mutual aid and agroecology in Barcelona and Seville.
David Camacho: Nature-based solutions in urban environments: Holistically assessing their impacts through a spatial vulnerability perspective.
Ricard Segura: Multiscale modelling to understand the influence of green infrastructure on temperature and atmospheric carbon sequestration.
Gaia Stringari: Reconsidering the Impact of Plant Emissions on Indoor Air Quality: Did We Underestimate the Surrounding Environment?
Austin Gage Matheney: Research, Methodologies, and Activism for Uncovering and Countering the Green City Orthodoxy.
Andréanne Chu Breton-Carbonneau: From exclusion to empowerment: The role of urban governance and green initiatives in promoting health equity.
Daniel Torren Peraire: The cultural multiplier of climate policy.
Nuria Penalva Arias: Different sources of Black Carbon accumulated in surface sediments from the tropical Atlantic Ocean.
Bowen Gu: The Black Gold Rush: Environmental Justice on the Coal frontiers in China and global China.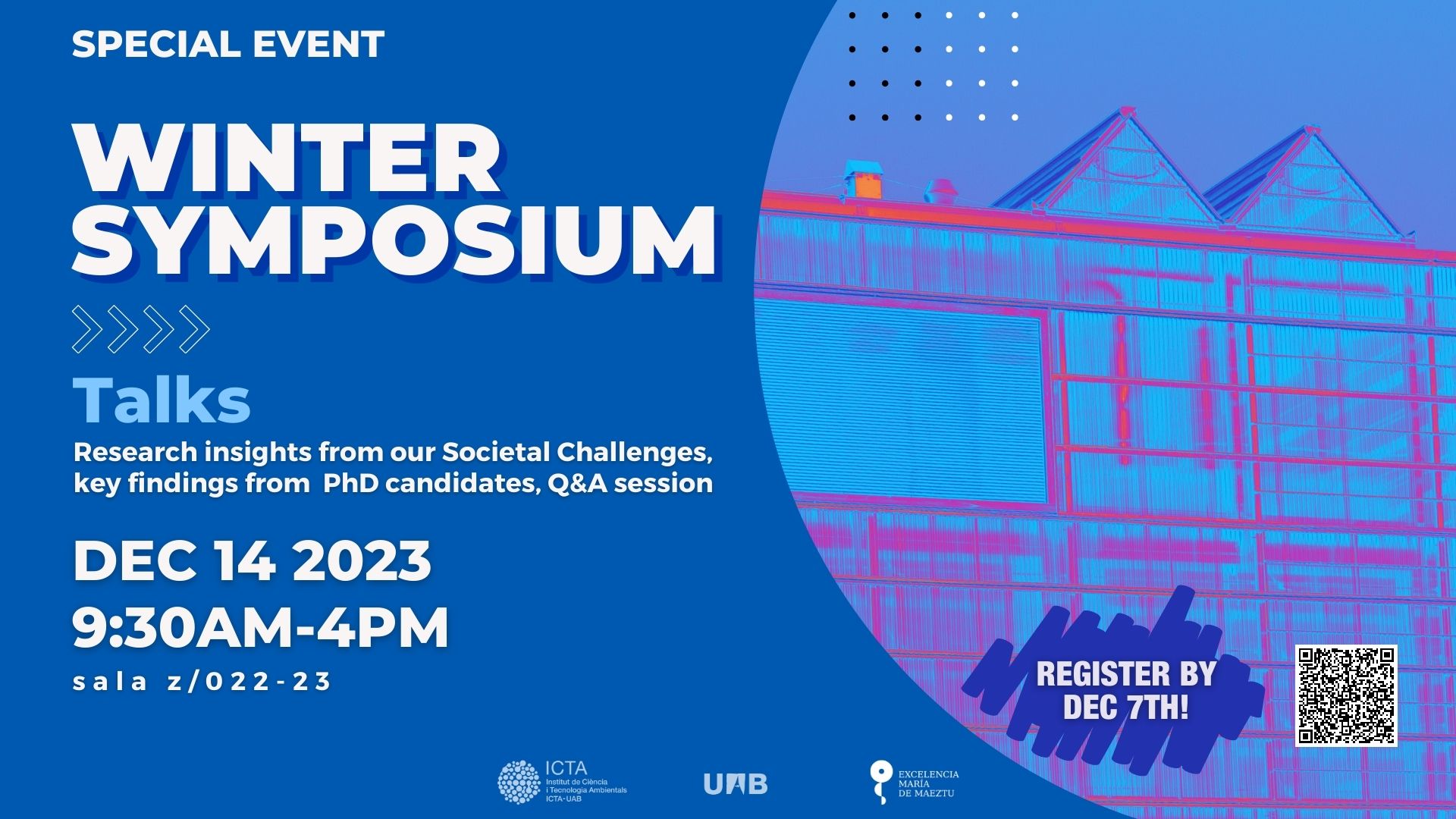 ​​​​​​​