30/01/2019
Variations in the immune and metabolic response of proactive and reactive Gilthead sea bream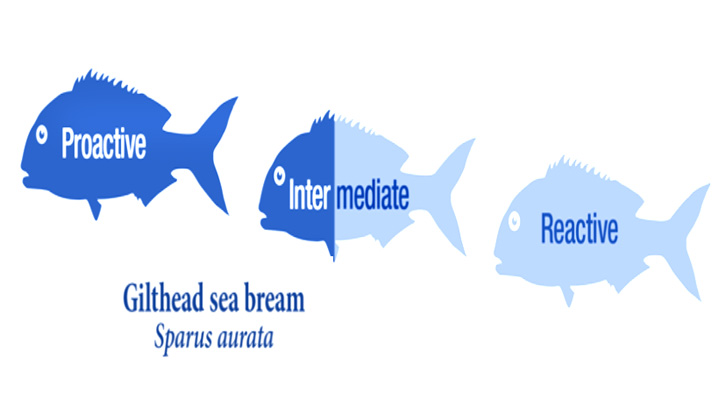 Individual variations in the behavioural response of animals from the same population exposed to an environmental challenge are described using the term "coping style". This term seeks to describe consistent links between behavioural and physiological traits, performance and fitness, and classifies animals (including fish) into two opposing stress-coping styles: proactive (adrenaline based, active coping or 'fight-flight') and reactive (cortisol based, passive coping or 'conservation-withdrawal'). Their behavioural traits suggest that proactive fish will fare better in stable, plentiful, high-density environments, while reactive individuals will thrive best in environments with sparse, unpredictable resources, and low animal densities. Differences in coping styles may also influence disease resistance, growth performance, metabolic adjustments and, ultimately, fish welfare under intensive aquaculture practice, where high stock densities facilitate the spreading of bacterial and viral pathogens.
In our study, which is made in collaboration between researchers of UAB and from Universidad de Panamá (Panamá) we aimed to evaluate how fish with different coping styles respond to the stress of vaccination over time. Gilthead sea bream (Sparus aurata) were screened for coping styles and posteriorly subjected to a stressor that may occur under aquaculture conditions, i.e., bath vaccination against Vibrio anguillarum.
Gills and liver were sampled at different times post-vaccination and immune-, oxidative stress- and metabolic-related genes as well as metabolic, hepatic health indicators and oxidative stress endpoints were analysed. Results indicate that under bath vaccination proactive fish show high immune response and lower metabolism, whereas reactive fish show low immune and higher metabolic responses. The proneness of proactive sea bream to elicit local pro-inflammatory responses in branchial tissues at the initial stages of vaccination may help to reduce the impact of vibriosis among the population, both in natural and artificial environments. However, the onset of inflammatory responses may also affect the physiological and metabolic trade-offs that sustain immunity activation, impairing the overall response to infection.
Selecting for coping styles in controlled and farmed systems may help to define the effect of individuality personality in the homeostatic regulation, the energetic and metabolic responses to the allostatic load and the covariation of behavioural traits with immune individual profiles.


Figure 1. Outline of behavioural tests and behavioural screening for proactive and reactive phenotypes in Sparus aurata.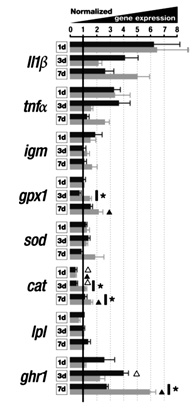 Figure 2. Liver responses of proactive and reactive fish exposed to Vibrio anguillarum bacterin at 1, 3 and 7 days post-vaccination. Expression profiles of immune- (il1β, tnfα and igm), oxidative stress- (gpx1, sod and cat) and metabolic-related (lpl, ghr1) transcripts. *Indicates significant differences between proactive and reactive fish. Δ indicates significant differences between proactive and control fish. ▴ indicates significant differences between reactive and control fish. Data
are presented as mean ± SD.
Mariana Teles
Department of Cellular Biology, Phisiology and Immunology
Universitat Autònoma de Barcelona
References
Vargas, Reynaldo & Carles Balasch, Joan & Brandts Busom, Irene & Reyes-López, Felipe & Tort, Lluis & Teles, Mariana. (2018). Variations in the immune and metabolic response of proactive and reactive Sparus aurata under stimulation with Vibrio anguillarum vaccine. Scientific Reports. 8. DOI: 10.1038/s41598-018-35863-w.