21/12/2017
UABDivulga awarded National Research Prize in Scientific Communication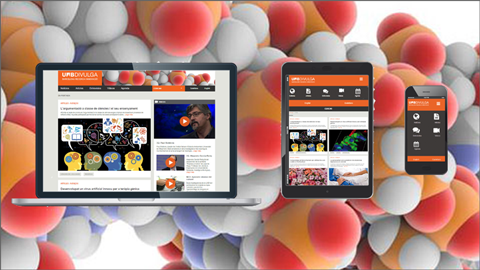 The Universitat Autònoma de Barcelona's online journal UABDivulga was created in 2003 to bring the scientific production conducted at this university and its affiliated centres closer to society. It includes the participation of scientists from 57 UAB departments and 44 affiliated research centres and institutes, as well as 19 spin-off companies from the UAB Research Park. Up to date, more than 2,000 articles in all areas of knowledge have been published online. This includes interviews with renowned scientists and researchers visiting the UAB, both written and in short video capsules, as well as over 155 video reports on research projects. Contents are published in Catalan, Spanish and English and each month's issue is send via e-mail to 2,785 subscribers.

The National Research Prize 2017 was also awarded to biocomputer specialist Roderic Guigó, coordinator of the Bioinformatics and Genomics Programme at the Centre for Genomic Regulation (CRG) and lecturer in Bioinformatics at the UPF; in the category of Young Talent, the prize was awarded to the Italian astrophysicist Nanda Rea, staff scientist of the Spanish National Research Council (CSIC) at the Institute of Space Sciences (IEEC-CSIC), specialised in the study of magnetars, neutron stars with the strongest magnetic field existing in the universe; the TV3 Marathon was awarded the prize in the category of Scientific Patronage for its work during the past 25 years in raising funds for biomedical research and raising social awareness of severe and chronic illnesses; and finally, the prize in the category of R&D Public-Private Partnership went to the collaborative research platform on mobility Cooperative Automotive Research Network (CARNET), launched by SEAT, Volkswagen Group Research and the UPC.

The National Research Prizes foster social recognition of science and the activities conducted by researchers, patrons, entrepreneurs and communicators. The jury was presided by Antoni Esteve, president of the FCRi.