02/05/2022
A Virtual Exhibition about Captured Korean Potters in Seventeenth Century Japan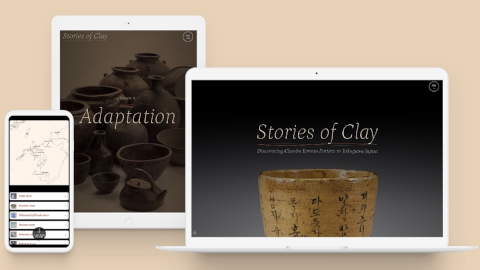 Potters and their families were among the many Chosŏn Dynasty Koreans taken to Japan by the armies of the Japanese ruler, Toyotomi Hideyoshi during the Imjin War, which was the largest conflict in the world of the sixteenth century. There are few written records about these potters. In addition, their work has often been overshadowed by the importance of Chinese influences in the development of Japanese pottery. Yet these Korean artisans founded ceramic traditions that continue to the present day.

"Stories of Clay" represents the curators' original research, considered together with current scholarship, in a digital format that is designed to be accessible to experts and non-specialists alike. Inspired by the format of a museum exhibition, each of the five "rooms" explores one aspect of the Japanese post-Imjin pottery experience: origins of the potters, their lives in Japan, the technology they brought, adaptation to local conditions, and their stylistic influence. Pop-up glossary boxes help with specialist terminology, and endnotes offer an insight into important research on each subject. Don't forget to check out the Resources page too, which contains a series of talks by leading experts and downloadable worksheets for educators.

Concentrating on the first half of the seventeenth century and examining elite and everyday items, this virtual exhibition and digital history project will challenge the impression that tea wares were the most important output of the Korean potters in Japan. It will contribute to the ongoing art historical reassessment of Korean influence on Japanese ceramics. The potters and their complex relationships with their Japanese patron-captors also shed light on the regional aftermath of the Imjin War, which was the largest conflict of the sixteenth-century world.
Rebekah Clements
ICREA research professor,
Department of Translation, Interpreting, and East Asian Studies
Universitat Autònoma de Barcelona
References
Link to Stories of Clay webpage
This project has received funding from the European Research Council (ERC) under the European Union's Horizon 2020 research and innovation programme (grant agreement No 758347 – Aftermath of the East Asian War of 1592-1598).