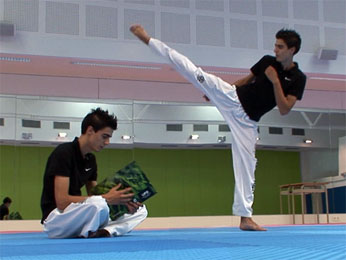 03.09.2012

Studying

-

Six athletes from different sports who won medals at the Olympic Games in London this year are students enrolled at UAB who participate in the programme Tutoresport.
Joel González, student of Criminology, won the gold medal in the sub 58 kg category of Taekwondo. BMA student and swimmer Mireia Belmonte was awarded two silver medals in the 200 metre butterfly stroke and in the 800 metre free stroke. Andrea Fuentes, student of Sociology, also won two medals in two categories of synchronised swimming: duet (silver) and team (bronze). The women's waterpolo team also won the silver medal, with members Laura Ester (Biochemistry), Matilde Ortiz (Journalism), and María del Carmen García (Advertising and Public Relations).
These students are some of the 72 elite athletes who studied at UAB during the 2011/12 academic year under the Tutoresport programme. UAB is proud to be one of the universities with the largest number of elite athletes enrolled. The location of the Centre of High Performance (CAR) in Sant Cugat del Vallès makes it easy for students to combine their training with attending classes.

In the 1996/97 academic year, the UAB SAF sports centre created the Tutoresport programme to meet the needs of individuals with serious difficulties in making their academic studies compatible with training calendars and official competitions. Each student has a personal tutor assigned to them who helps them plan their academic year in accordance with their sporting events calendar, helps them follow their lessons and works out the special needs of fitting the academic calendar into their schedules, by rearranging exam dates, project deadlines and other class exercises.

"Abandoning their studies is not something many of these athletes do, since once they find the studies they are interested in, they put all their energy into it, and values such as discipline and personal effort so characteristic in high level competitions, also helps them succeed in their studies", explains Xavier Isern, director of the Tutoresport programme.

Maria Antònia Tarrazón, coordinator of Tutoresport at the Faculty of Economics and Business, comments that "although digital material and the virtual campus makes studying easier for these students, they want to attend university and are motivated by the idea of experiencing university life, getting to know what it's like and being in a totally different environment form that what they experiment every day".