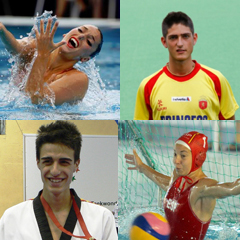 05.07.2012

Life

-

The UAB this academic year has been home to 72 students/elite athletes who have carried out their academic studies at UAB under the Tutoresport programme. Twenty of these athletes will participate in this year's Olympic Games in London.

Among those going to London 2012 who have studied at UAB are Andrea Fuentes, synchronised swimming (Sociology), Joel González, Taekwondo (Criminology), Sara Ramírez, table tennis (Tourism and Hotel Management) and Xavier Lleonart, field hockey (BMA).

All of these students belong to the group of 72 high level athletes from around Spain who are currently studying at UAB. The university boasts one of the highest number of elite athletes in the country. The location of the Centre of High Performance (CAR)at Sant Cugat del Vallès, four kilometres and two train stops away from the campus, makes it easy for students to combine their training with attending classes.

The UAB was the first university in Spain to take this group into account and 15 years ago (in the 1997/98 academic year) created the programme "Tutoresport" to meet the needs of individuals with serious difficulties in making their academic studies compatible with training calendars and official competitions.

This is also the reason each student has a personal tutor assigned to them. At the beginning of the academic year, elite athletes meet with their tutor and this is when all information on the students sports and academic life. The tutor's role includes helping students/athletes to plan their academic year in accordance with their sporting events calendar and finding the best way to distribute their academic load depending on the athletic needs. Throughout the course, the tutor helps them follow their lessons and works out with other lecturers the special needs of fitting the academic calendar into their schedules, by rearranging exam dates, project deadlines and other class exercises.

"Abandoning their studies is not something many of these athletes do, since once they find the studies they are interested in, they put all their energy into it, and values such as discipline and personal effort so characteristic in high level competitions, also helps them succeed in their studies", explains Xavier Isern, director of the "Tutoresport" programme, created by the Servei d'Activitat Física at UAB.

Maria Antònia Tarrazón, professor and coordinator of Tutoresport at the Faculty of Economics and Business, comments that "although digital material and the virtual campus makes studying easier for these students, they want to attend university and are motivated by the idea of experiencing university life, getting to know what it's like and being in a totally different environment form that what they experiment every day".

The 2008 Olympic Games celebrated in Beijing also included the participation of twelve UAB students (synchronised swimming, field hockey, Taekwondo and Athleticism), enrolled in Physiotherapy, Communications Sciences, Primary Education-Physical Education, Economics, Tourism and Psychology.

Since the UAB began to offer a personalised programme for elite athletes, the studies most chosen by these students have been those offered at the faculties of Communications Sciences, Education, and Economics and Business Studies.