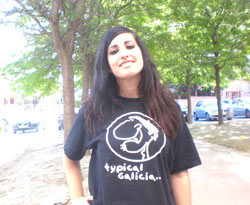 24.07.2012

Studying

-

Mireia González Bedmar scored 13.825, the highest mark of all new students enrolling at UAB. She will travel all the way from Jaén to enrol in the double degree of Physics and Maths, the degree with the highest entrance mark in Catalonia.
Mireia González, born in El Vendrell (Baix Penedès) but raised in Jaén, will return to Catalonia to enrol in the double degree in Physics and Maths at UAB. An avid reader and writer, Mireia eagerly awaits the beginning of this new stage in her life and in the meantime, is teaching herself to play the guitar.
She scored the highest mark of all students enrolling this year at UAB. How did you manage to get such good marks? Did you have to prepare yourself in any special way?
No, I had no special preparation. I don't think its necessary. You have make use of all the years of compulsory education by reading a lot. Reading, as a hobby, opens your mind and favours a critical spirit and obviously improves your comprehension and expression levels. When you have a more profound knowledge of language, you also aspire to have a more profound way of thinking. But reading of course is not all. You have to study continuously throughout secondary school and, above all, you must be motivated. If you study only to pass exams, you'll never get very far. You must study to know, to learn; that way, you're sure to get excellent marks.

Why did you choose to continue your studies at Universitat Autònoma de Barcelona?

Actually, I was planning on enrolling at Universidad Autónoma de Madrid, but when I discovered that UAB offered this double degree I was very interested. I found out all I could on the UAB and right now there is no doubt that this is where I want to study.

Why did you choose the double degree in Physics and Maths?

That's a difficult question. When I was little, I wanted to study Medicine like my older sister, but then I got older and decided to study something different. I love knowledge, the arts and challenges. There are so many things I like that it was difficult to discard most of them. Literature, philosophy, music, linguistics and, of course, science studies. I finally chose a branch of science because I think it will be easier to continue with languages and the arts as a hobby.
I love learning about my surroundings, discovering the very nature of everything around me, and of the things that are too far to perceive; and I am really fond of mathematical challenges. I could mention career opportunities or the need to study two degrees and be better prepared in times of crisis, but I really did not take that into account. The reason why I want to study two degrees is my insatiable need to learn. My professional needs will come later. I believe that if you work hard enough, you can triumph.

What are your expectations regarding your university studies?
I have many expectations, maybe too many. I want to develop my capacity of abstraction and work, and be well prepared for the future. If I can later have a good job and economic stability, I'd like to continue with other university degrees I am interested in. But right now what I find most interesting, apart from my academic training, is university life. Getting to know new people, with the same expectations and hope as I, with other points of view, is something I am looking forward to. The truth is that I am very excited about starting this new stage in life.