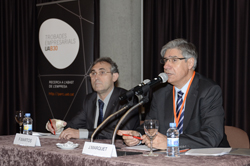 17.05.2012

News about Parc

-

During the workshop on "Mobility and Transport in Smart Cities", organised by the UAB Research Park, researchers and professionals presented the latest innovations in this field.

The progressive concentration of people in urban areas is a phenomenon which continues to grow. In Spain, 7 of every 10 inhabitants live in large cities or the adjacent metropolitan area, making up a densely populated area where common land management strategies and services are necessary. Under this context, controlling transport and mobility is increasingly essential in order to guarantee the success of what are known as "smart cities".

Jordi Marquet, Director of the UAB Research Park (PRUAB), which has been in charge of organising the workshop on "Mobility and Transport in Smart Cities", explains that "one of the keys to making a smart city successful is the planning of mobility and transport for people and goods, an area in which PRUAB researchers are working with the aim of developing projects to improve the quality of life of city dwellers".

During the workshop, which was celebrated on 17 May, researchers and professionals of the sector presented the latest advances and talked on their experiences in an area in which metropolitan areas must rationalise transport systems to increase both the road safety and economic and environmental sustainability of millions of people travelling each day.

Among technological innovations presented were devices such as the eco-DRIVERS, which help to reduce road accidents, and applications such as OnTheBus, which allow the population to move around the city in a more efficient manner.

"According to our predictions, some of the projects presented here will be implemented in less than five years", explains Dr Marquet. "One of the main objectives of workshop is to set up future collaborations between participants based on the contacts among researchers and investors, with the purpose of fostering technological micro-businesses as a dynamic element of smart cities", he adds.

The event, programmed under the UAB30 Business Workshops, included the participation of businesses such as Abertis Telecom and INDRA, companies which have invested in research and development of innovative projects working to improve the quality of life of urban areas.

Preventing accidents caused by distractions
One of the projects presented, the eco-DRIVERS, is an innovative driver's assistance programme which contributes to the reduction of traffic accidents with the help of video-image and artificial intelligence.

"Since it is based on computer vision and not on active sensors as radars are, our device can be implemented in electric vehicles, making it viable in comparison to other systems which can only be applied to luxury vehicles", explains Antonio M. López, researcher at the Computer Vision Centre (CVC) at UAB and project director.

Until now, driver assistance systems or ADAS (Advanced Driver Assistance Systems) were only added to luxury cars. The device developed by Dr López' team however is visual-based and thus both its implementation costs and energetic consumption are very low, since it does not send out waves and therefore does not carry the risk of malfunctioning due to interferences.

One of the project's objective is to offer all drivers a device that drastically reduces the risk of accidents and thus increases driving safety and comfort.

Specifically, the visual ADAS for the eco-DRIVERS will help to prevent accidents through the monitoring of the space in front of the vehicle and the degree of attention of the driver. According to Dr López, "20% of accidents are produced by distractions and this is particularly important in electric cars, which are extremely quiet and can pose an added threat to careless pedestrians".

According to Dr López, the first prototype will be ready in three years, and could be on the market in five years, depending on the speed in which electric cars are finally implemented.

The CVC research group also has been studying the option of implementing visual ADAS in Smartphones, which are constantly improving the quality of their cameras and calculation capacity. This possibility will take longer to reach the market but will permit more users to benefit from driver assistance.