26/11/2020
UAB researchers awarded La Marató grants to study rare diseases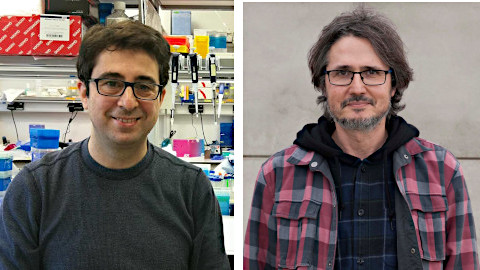 Albert Quintana, researcher at the Department of Cell Biology, Physiology and Immunology of the Institute of Neuroscience (INc), is leading a project entitled "Modulació de la senyalització retrògrada mitocondrial com a tractament de la síndrome de Leigh" [Modulation of Retrograde Mitochondrial Signalling as a Treatment for Leigh syndrome].
Leigh syndrome is a degenerative disease caused by alterations in the mitochondria, an organelle in charge of generating cell energy, and especially affects organs and tissues needing the most amount of energy, such as the central nervous system. These alterations in the mitochondrion cause an activation of different mechanisms to try to compensate this energy deficit, including a phenomenon known as the retrograde mitochondiral signalling (RMS).
"Recently, we identified that the daily administration of cannabidoil (CBD), a drug which targets several RMS mediators, reduces clinical signs and lengthens the life of animal models of this disease. However, we still do not know the mechanisms behind these beneficial effects. In this three-year project we will study the contribution of RMS to the mitochondrial functiuoning with the aim of identifying new therapeutic targets", explains Albert Quintana.
Also participating in the project will be Francesc Xavier Soriano Zaragoza, researcher of the University of Barcelona. Funding for the project is €300,000.
Jose Manuel López, researcher at the Department of Biochemistry and Molecular Biology of the Institute of Neuroscience (INc), leads the project entitled "Alteracions bioquímiques i del neurodesenvolupament en la malaltia de Lesch-Nyhan" [Biochemical and Neurodevelopment Alterations in Lesch-Nyhan Syndrome].
Lesch-Nyhan disease is characterized by complex and severe neurological alterations caused by the mutation of just one gene (HPRT1). The hypothesis of this project is to focus on the nucleotide ZMP, potentially toxic, that accumulates at high levels in some cells of the patients and that could be a key factor to explain the disease.
The researcher and his team will approach this biochemical problem in a classical way, to make sure that their hypothesis is correct. But they also plan to go further. "We have found that very high levels of folic acid (a vitamin that we need for surviving) can reduce ZMP levels in the cells of the patients. In addition, it is known that a small RNA molecule from bacteria can interact with ZMP in a very specific way (a ZMP aptamer)", says López Blanco. He goes on to add that "Therefore, we propose two novel therapeutic interventions for the disease: 1) To increase folic acid levels in the patients, and 2) To administrate this RNA molecule that could block the toxic effects of ZMP. We hope that these novel treatments will reverse some of the biochemical alterations induced by ZMP."
Participating in the project, which also received €300,000 in funding, will also be researcher Rosa Torres Jiménez, from the Biochemical Research Foundation of the La Paz University Hospital, IDIPAZ.
Both UAB project will last three years. They are part of the 41 projects selected by the La Marató Foundation in its 2019 call, which received a total of 228 proposals.