16/12/2022
The zoonotic Crimean-Congo haemorrhagic fever virus and its circulation in wild ungulates in the Valencian Community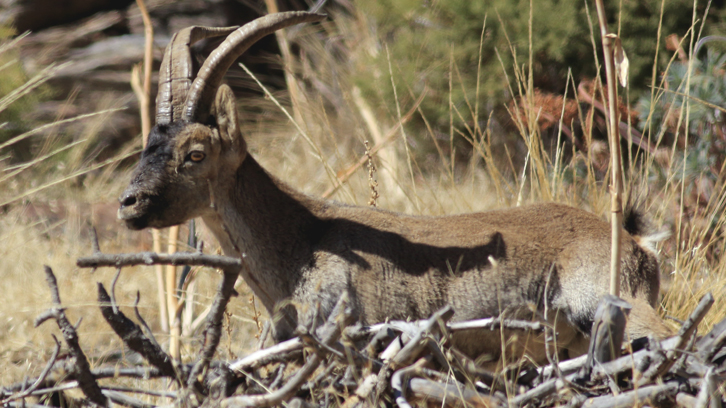 Crimean-Congo haemorrhagic fever virus (CCHFV) is transmitted mainly by ticks from the Hyalomma genus, whose distribution is expanding throughout the Iberian Peninsula. In humans, CCHFV can cause a potentially fatal systemic disease, with mortality rates of up to 30 – 40%. Indeed, since 2013 ten human cases have been reported in Spain. CCHFV-infected ticks transmit the virus when biting animals, in particular rabbits, rodents and ungulates such as goats, wild boars, cows and sheep. Although infected animals do not show signs of disease, they develop antibodies that enable the identification of areas affected by the disease through serological studies.
In the Valencian region, the presence of Hyalomma ticks is poorly documented, and the circulation of CCHFV has never been reported. Therefore, WildCoM Research group (UAB), jointly with IRTA-CReSA and CEU-Cardenal Herrera University carried out a serological study with the aim of detecting antibodies anti-CCHFV in wild ungulates (wild boar, Iberian ibex and mouflon) from several areas within the Valencian region. Samples from as early as 2010 were used, so that in case of positivity, we could determine whether the infection was recent or not. We found out that all mouflons and most of the Iberian ibexes presented antibodies against the virus. Both species live mainly in two areas, Vall de Cofrents and Els Ports counties. Wild boars, which are widely distributed among the region, also tested positive for antibodies, although seroprevalence was much lower and mostly concentrated in these two areas.
Our results indicated that CCHFV had been circulating in the Valencian region since 2010. The areas affected are associated with high densities of Bovidae wild species, whereas wild boars can play a role in dispersing the virus further to other areas. This epidemiological scenario differs greatly from other endemic regions of the Iberian Peninsula, where red deer is considered the key species for CCHFV circulation.
This study highlights the need for further investigating the ecological drivers of CCHFV and its key species in the Eastern Mediterranean coast of Spain. Luckily, both areas with high CCHFV circulation have very low human density so, for the moment, infection risk remains low.
Laura Carrera Faja (1), Sebastian Napp (2), Jesús Cardells (3), Johan Espunyes Nozières (1)
(1) Wildlife Conservation Medicine Research Group (WildCoM), Facultat de Veterinària, Universitat Autònoma de Barcelona.
(2) IRTA, Animal Health Research Center (CReSA)
(3) Servicio de Análisis, Investigación, Gestión de Animales Silvestres (SAIGAS), Facultad de Veterinaria, Universidad Cardenal Herrera-CEU
References
Carrera-Faja L, Cardells J, Pailler-García L, Lizana V, Alfaro-Deval G, Espunyes J, Napp S, Cabezón O. Evidence of Prolonged Crimean-Congo Hemorrhagic Fever Virus Endemicity by Retrospective Serosurvey, Eastern Spain. Emerg Infect Dis. 2022 May;28(5):1031-1034. doi: 10.3201/eid2805.212335