05/10/2015
New UAB website on intellectual property and open access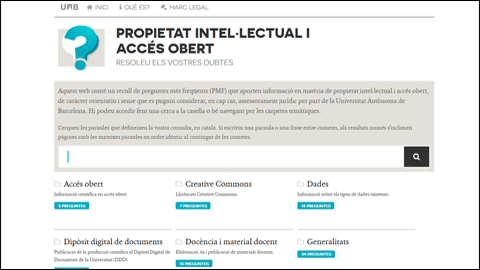 The UAB has launched a website on intellectual property and open access, in support of teaching, learning and research activities at the university,

The Intellectual Property and Open Access website aims to resolve any doubts about writing and publishing teaching materials, publishing scientific production in the Digital Document Repository (DDD), open-access publication of final documents from funded projects, open-access publication of primary research data, registering and publishing doctoral theses, conditions for using digital resources (licences), open-access licences (Creative Commons), or publishing articles and books through the university's Publishing Service.

Addressed to members of the UAB community, mainly teaching and research staff and trainee researchers (PDI), the site offers support from different sectors of the university: the Area of Information Systems Planning, the School of Doctoral Studies, the Legal Office, the Area of Research Management, the Library Service and the Publishing Service.

Through a set of frequently asked questions (FAQ), the new site provides guidelines on intellectual property and open access matters, which in no way should be regarded as legal counsel on the part of the UAB.

There are three ways to search for information on aspects of intellectual property and open access: by directly writing the question in Catalan in the search box, by browsing through the topics on the home page, or by using the form at the bottom of the page. The first two search options require the use of Catalan, but queries can be submitted in Spanish or English when using the form.

In addition, the site's users can consult Spanish and EU legislation, international treaties and the UAB's own regulations.