Trobada Multidisciplinary Integrative English Project in Primary Schools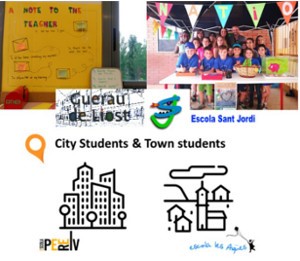 Aquesta trobada està adreçada al professorat d'anglès de primària que tingui interès a reflexionar sobre com es poden dur a terme a l'aula projectes i tasques que plantegin reptes reals a l'alumnat. Reptes que animin tant a observar i experimentar per construir coneixements o descobrir l'entorn, com a dissenyar propostes d'actuació per contribuir a millorar problemes del món actual.
La trobada començarà amb una conferència que servirà per plantejar, a través d'exemples reals, els principis teòrics que sustenten aquests enfocaments. Tot seguit, s'exposaran tres experiències sobre com s'aplica a l'aula aquesta metodologia. Concretament, es presentaran dos projectes interdisciplinaris i un conjunt de tasques multidisciplinàries que es duen a terme en l'actualitat a tres escoles catalanes.

This seminar is aimed at primary school teachers who are interested in reflecting on how projects and tasks can be carried out in the classroom in order to provide students with authentically challenging learning opportunities. Project-based teaching approaches should encourage them to observe and experiment in ways that support knowledge building and discovery of the environment around them while designing proposals for action that have a real impact on, and can help resolve, problems in the current world.
With this premise in mind, the daylong seminar will begin with a lecture that intends to raise, through real examples, the most relevant issues that are linked to theoretical principles that underpin these approaches. Then, three cases will be presented that show how this methodology has been applied in the classroom, specifically, two interdisciplinary projects and a series of multidisciplinary tasks that are currently being carried out in three schools in Catalonia will be presented.
AGENDA
09.00 Reception
09.30 Welcoming words
Anna Ortiz
Sotsdirectora de l'Institut de Ciències de l'Educació, Universitat Autònoma de Barcelona
09.45
Integrative projects in the English primary classroom: where we are now and where we want to go
Project-based learning (PBL) is a methodological approach that integrates language, media and content education to student's own lives through tasks that are intellectually and emotionally challenging. A brief experiential foray into the evolution of this proposal is necessary to understand and think of possible solutions to the challenges of teaching and learning in the 21st century.
11.00 Break
11.30
Discovering, innovating & helping others
With the help of a 3D printer and their bursting open minds, two groups of second formers learn how to plan, organise and conduct a solidarity marketing campaign to collect money for a group of four Syrian kids retained in a refugee camp in Greece.
Maria Mont, Escola Sant Jordi (Mollet del Vallès)
12.15
Let's geolocate our environment: City students and town students
The Sixth graders groups from the two schools participating in the project "City Town" learn to identify the geographic location of the landmarks in their own town/city while they prepare a tour to present their municipality to their partner school.
Cristina Asensio, Escola Les Aigües (Cardedeu)
Teresa Oliva, Escola Pere IV (Barcelona)
13.00
Touches of curricular areas for learning English
Learning a new language must be meaningful and real. Contents can't be learnt in isolation and we, teachers, need to experiment new methodologies, try different strategies and form all sorts of groupings to help our students to make connections between the knowledge and skills they build up in the different curricular areas.
Esther Serramia, Escola Guerau de Liost (Les Franqueses del Vallès)
13.45 Closing words
Maria Balsach
Membre de la unitat docent de l'Institut de Ciències de l'Educació, Universitat Autònoma de Barcelona


Venue: Casa de Convalescència. Hospital de Sant Pau, c/ Sant Antoni Maria Claret 171, Barcelona.
Date: 27th January 2018, from 9am to 2pm
Incripción price: 20 €
Es faran gravacions i fotos de tota la trobada.

Aquesta activitat està reconeguda com a Formació Permanent del Professorat pel Departament d'Ensenyament de la Generalitat de Catalunya.
Per obtenir la certificació haureu de signar els fulls corresponents, que trobareu a la secretaria de la Trobada durant tota la seva durada.

---
SPEAKERS
Cristina Asensio Soriano
is a primary teacher with ample experience in teaching English as a foreign Language. She is currently working at Escola Les Aigües, in Cardedeu. She has coordinated many European Comenius and Erasmus + projects at local level. With her participation in 2009 in the eTwinning project known as "The diary of Syrius' travels" she was awarded a quality label.
Innovation in the use of ICT in the classrooms is one of her main professional interests, which explain why she is a member of the leading team in charge of implementing the project Escola Nova 21 in her school.
Melinda Dooly
holds a Serra Húnter fellowship as researcher and senior lecturer in the Department of Language & Literature Education and Social Science Education (Universitat Autònoma de Barcelona), where she teaches English as a Foreign Language Methodology (TEFL) and research methods courses, at both undergraduate and graduate levels. She has taught in different countries worldwide, including an honorary lectureship at the Institute of Education University College London.
Her research interests are technology-enhanced project-based language teaching and learning. She is currently the lead researcher of GREIP (Research Centre for Plurilingual Teaching & Interaction) and of a project that seeks to gain Knowledge for Network-based Education, Cognition & Teaching (EDU2013-43932-P; 2014-2018).
Dolors Masats Viladoms
is a teacher-trainer and researcher at the Universitat Autònoma de Barcelona and a consultor for the Ministry of Education and Culture of Andorra in the design of a project-based cross disciplinary curriculum. As a member of GREIP (Research Centre for Plurilingual Teaching & Interaction), she leads or participates in numerous classroom-based national and international research projects in the field of discourse analysis applied to language learning in multilingual and multicultural milieus.
She is currently the lead researcher of a pre-service project to promote the use of ICT tools among novice teachers (2015 ARMIF 00010) and a project to empower teachers as agents of transformation through their engagement in cross disciplinary innovative projects in the English classrooms (RecerCaixa 2016; 2016ACUP-001; 2017-2020).
Maria Mont Algamasilla
is an enthusiastic teacher of English who has worked in various private and state schools in Catalonia. She is currently working as an English teacher at Escola Sant Jordi in Mollet del Vallès and as a pre-service teacher trainer at Universitat Autònoma de Barcelona.
Maria has taken part in various Comenius and Erasmus+ projects and has actively been involved in many of the classroom-based research projects conducted by the Research Centre for Plurilingual Teaching & Interaction.
She is interested in exploring resources to teach English in Kindergarten and primary levels and enjoys sharing her findings with other teachers. She is currently an in-service teacher trainer of the Department of Education of the Generalitat de Catalunya.
Teresa Oliva Figueras
is one of the English teacher at Escola Pere IV in Barcelona. She is interested in innovation in education and creative technology in the classrooms. She has coordinated several PILEs (Integrative plans for foreign language education) and has taken part in the project entitled Aprenem en Xarxa, through which the primary and secondary schools in the district of Poble Nou (Barcelona) work together to enhance the value of using technology to teach languages. The article Innovar en el plurilingüisme: TAC i llengües is one of the outcomes of the team.
Teresa was awarded the second prize in the individual category in the 2013-2014 Contest of Good ICT Practices organised by the Consorci d'Educació of the city of Barcelona thanks to her project "Hands- on ICT: Creativity, Apps and Gin systems in the English classroom".
She has given various talks and workshops on the use of ICT in Language classrooms. At her school, she is currently a member of the team Tools for Change and the coordinator of the project Let's geolocate our environment: City students and town students.
Esther Serramia Sánchez
holds a Bachelor Degree in Elementary School since 2004 and a Postgraduate Diploma in Plurilingual Education by UNESCO (ICE UB 2004). She has worked as an English teacher for ten years, three of them in the USA. She is currently teaching at Guerau de Liost in Les Franqueses del Vallès, where she is also the school ICT coordinator.
Esther is also a pre-service teacher trainer at the Universitat Autònoma de Barcelona, an in-service English teacher trainer at the Resource Centre in Vallès Oriental III and coordinates a research group at the Institute of Educational Sciences at the University of Barcelona, where she led the projects, Flipped Classrooms (2016-2017) and Integrated curriculum (2017-2018).