Bachelor's Degree in Nursing (affiliated schools)
Presentation
The Bachelor's Degree in Nursing trains up general-practice nurses, who have the appropriate scientific and human qualities to be able to identify and assess persons' health needs and act accordingly.
The demographic changes taking place in recent years in this country have led to more and more people becoming vulnerable and dependent. At the same time average hospital stays have shortened, while treatments have gained in complexity. All of this goes to increase the need for new nursing professionals.
The schools that teach this degree have a long tradition in nursing studies and close ties with prestigious hospitals at home and abroad.
The Bachelor's Degree in Nursing trains its students to provide strategies for health promotion and prevention of diseases, and to assist patients in their recovery or help them to die with dignity. Within the health system, nursing professionals share tasks with other health professionals in terms of planning, organisation, management and assessment of the health system.
Each school offers the chance to specialise in an area of nursing. The Gimbernat School of Nursing and Physiotherapy (EUI Gimbernat) offers specialisation in Innovation and Management of Diversity, Nursing, Innovation in Health, and Information and Communication Technologies. The School of Nursing and Occupational Therapy Terrassa (EUIT Terrassa) offers the tracks of Community Action on Health and Nursing in Specific Contexts. Finally, the Sant Pau School of Nursing (EUI Sant Pau) offers specialisations in Specific Nursing Care in Cardiology and Specific Nursing Care in Oncology.
All three affiliated schools have been accredited with the AQU Catalunya quality label:
EUI de Sant Pau

EUI Gimbernat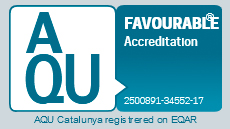 EUIT de Terrassa

Student Profile
Those wishing to take this course must have a capacity for interpersonal relations and teamwork, the ability to listen, adapt to surroundings and show responsibility and dedication. They must also be capable of solving problems, making decisions and learning independently, must show respect for those with different values and cultures, and must be committed to the health and welfare of persons, families and groups.
Career options
Graduates of this degree are equipped to work as general-practice nurses, in any sector of the profession.
The main areas of employment for graduates are:
Hospitals and clinics.
Primary care centres
Health departments in private companies.
Freelance nursing, mainly in the home care sector.
Social health centres and care homes for the elderly.
Rehabilitation centres.
Spas.
Nursery schools.
Health insurance companies.
Health promotion programmes.
Medical emergency services.
Nursing management.
Teaching.
Research.
Other employment sectors are in the nursing specialisations undertaken through the residency track.
Teaching staff list
Evaluation
In line with the degree's focus on competences and the use of different teaching and learning strategies, the assessment procedures adopted vary accordingly. Traditional assessment procedures, such as objective tests, are accompanied by alternative procedures, which are used in group work, practical assignments and practicums, and which take into account students' implication in the learning and assessment process.
EUI Sant Pau: mainly continuous assessment (a combination of exams and assignments).
EUIT - Terrassa: the school encourages students' active involvement in their learning processes and monitors their progress throughout their time at the school.
Timetables
EUI Sant Pau : one shift (morning classes, from 8 to 13h., and clinical practice in the mornings, from 7/8 to 13h. or afternoons from 14/15 to 20/21h.).
EUI Gimbernat : two morning shifts (registration on a shift does not mean that all teaching will be included in that timetable, such as theory-practice units, seminars, clinical placements, etc.).
EUIT Terrassa: one morning shift and one afternoon shift, allowing more compact teaching blocks and a chance to combine study and work.


Academic calendar
Learning resources
Pre-enrolment code:
21043 (EUI Sant Pau)
21042 (EUI Gimbernat)
21041 (EUIT Terrassa)
80 places (EUI Sant Pau)
160 places (EUI Gimbernat)
165 places (EUIT Terrassa)
Number of credits:
240 ECTS
Duration:
4 years
Language:
Catalan and Spanish
Price per credit:
¤88.01 per credit (39.53 official fee + 48.48 school's fee) (EUI Sant Pau).
¤121.03 per credit (39.53 official fee + 81.50 school's fee) (EUI Gimbernat).
¤98.53 per credit (39.53 official fee + 59 school's fee) (EUIT Terrassa).

Specific scholarships:
EUI Gimbernat: payment of enrolment fees in up to twelve monthly instalments.
EUIT Terrassa: offers 24 collaboration grants that can cover up to 100% (60 credits) of tuition costs depending on dedication.

Classroom-based learning.
Period of study:
EUI Sant Pau : Annual registration, single-semester courses.
EUI Gimbernat: Annual registration, year-long and single-semester courses.
EUIT Terrassa: annual registration. Year-long and single-semester subjects are combined.

Part-time or full-time:
EUI Sant Pau: full-time and part-time.
EUI Gimbernat : students should note that nursing studies require a high degree of dedication. There is, however, an option to take a slow track.
EUIT Terrassa: full-time and part-time

Title of qualification awarded:
Bachelor's degree in Nursing
Health Sciences
Contact us for more information filling in this form: *Required fields
Once the form has been sent in you will get a confirmation e-mail