Presentation
Vila UniversitÓria: accommodation on the Campus of the UAB. A privileged setting to live and study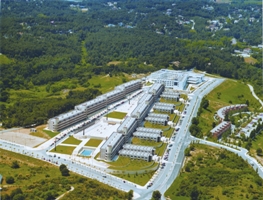 Vila UniversitÓria is the residential complex of the Universitat Aut˛noma de Barcelona (UAB), located on its campus, which has 812 apartments with a total accommodation capacity for 2193 persons.

The apartments at Vila UniversitÓria enjoy a very privileged setting: they are located between the campus and the VallŔs forest and have beautiful views, good train and bus connections and are only 25 minutes from the centre of Barcelona. Find our location and maps here.
Vila offers all the services you may need: student support centre, newsstand-book and stationery store, driving school, supermarket, cash dispenser, dry cleaners, and two bar-cafeterias.
Other optional services at your disposal: installation of telephone line, renting of equipment (bed- and bathroom linen, kitchen utensils, etc.) and periodic cleaning of the apartments, among others.
Vila also offers the following complementary services: maintenance of the facilities, selective waste collection, gardening services, mail pick-up and delivery, swimming pool with lifeguard service, permanent security service, health care unit, grass football field, beach volleyball field, etc.

Furthermore, if you become a member of the Residents Club, you'll be eligible for discounts and other advantages when you use certain services. You'll also be able to participate in a wide range of activities such as excursions, concerts, courses and many more.
Students in exchange programs may apply for several lodging options. Check them all out here.
In every option, electricity and water expenses (the amounts of which will depend on the use) and common expenses should be added to the monthly rent. In order to make a reservation, please fill in the application form.

Regarding the contract, the minimum stay is 3 months (beginning on the 1st and the 15th of each month). Besides the initial deposit to be paid in order to make the application, another 1-month deposit should be paid upon arrival. We will return both deposits at the end of you stay.
For any queries, please do not hesitate to contact us. You will find all details on the Contact page.
WE ARE LOOKING FORWARD TO WELCOME YOU TO VILA UNIVERSIT└RIA.