Master's Degree in Digital Strategy and Creativity (Blended)
Introduction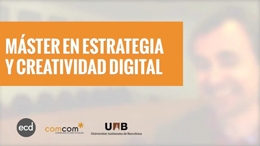 Under a context of international crisis, internet is the only media channel which continues to grow in consumption and advertising investment year after year. It is currently impossible to imagine a communication campaign without the support of digital means. The Master's degree in Interactive Strategy and Creativity provides students with a practical and updated perspective on the different mechanisms a communicator can use to transmit a message with content and provide value to both the brand and consumers.
Students will also receive training in research techniques, which they will later apply to the further study of interactive communication, thus becoming experts in this field. In addition, students who begin work placements in their first semester can validate them for credits in the second semester of the master programme. Students can also begin work placements in the second semester, thus complementing the professional training they receive in the first semester.


The Master's degree in Interactive Strategy and Creativity is an innovative training programme for professionals of the advertising sector in the use of interactive and digital communication tools for the development of online projects on the internet and other innovative means. The first edition was offered in 1997. In its 15 years of existence, over 250 students have been attracted to this mean which has not stopped growing and is now unarguably a fundamental tool for any communicator today.

During the first year (graduate diploma) the objective is to give students a panoramic view on the different tools available for digital and interactive media and how to use them to create quality communication lines with consumers and users. In the second year, (master) students are given the tools and methodologies needed to conduct research into interactive materials with the aim of discovering as many aspects possible of the specific area in which they areinterested in focusing theirprofessional career on.
Objectives
- Train students to develop, direct and coordinate communication projects using the internet, social networks, mobile platforms and digital media.
- Offer students the necessary research tools to be able to carry out a research project in interactive media.
Access requirements
This master's degree is aimed at university graduates, engineers, communication and marketing professionals, designers, computer engineers, teachers and business professionals from all fields, in possession of diplomas or degrees (minimum 180 ETCS credits).

Career opportunities
Among the career options available are:
- community manager
- creation / artwork / management on digital projects
- digital brand planner
- multimedia art director
- teaching
- entrepreneurship and business start-ups
- communication/advertising department head for large portals
- interactive project manager / accounts executive in interactive agencies
- research into interactive communication
- online media planning
- product manager for web-based companies
- multimedia producer
- online project planning
- marketing specialist in charge of a company website

Contact
David Roca Correa

Phone: 935812865
E-mail: master.ecd@uab.cat
Web: http://uabcom.com/estrategia-y-creatividad-digital.html
UAB-specific Master's Degree
11 Edition
Places
: 35
Orientation
: Research, Professional
60 ECTS
Price: 5880 ¤

Modality: Blended
Location: Casa de la Convalescència de Barcelona (c/ Sant Antoni Marià Claret 171, 08041 Barcelona)
Dates: from 25/01/2019 to 03/07/2020
Teaching language:
Spanish (100%)
Coordinating centres:
Departamento de Publicidad, Relaciones Públicas y Comunicación Audiovisual
Collaborating centres:
Double You
Anuntis
Herraiz Soto
Contact the programme manager *Required fields
You will receive a copy of your query by e-mail immediately and we will also include a PDF with all the information about the programme.