Gender Equity Policy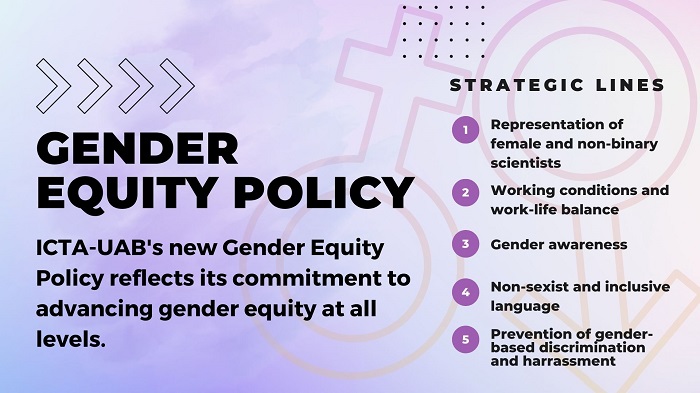 True to its commitment to advancing gender equality at all levels, ICTA-UAB has developed a Gender Equity Policy and will implement actions that strengthen the presence and role of women and non-binary scientists at the institute, make their research contributions visible, and enable the development and implementation of protocols to address gender-based discrimination and sexual harassment.
The initiative forms part of policies being developed by the UAB, specifically the "IV Action Plan for Gender Equality at the Universitat Autònoma de Barcelona 2019-2023", and the María de Maeztu Excellence Programme 2020-2024 at ICTA-UAB. The UAB also has an Observatory for Equalitythat pays special attention to gender-based violence and to which concerns and complaints can be reported.
The Gender Equity Policy originates in discussions and a preliminary survey on gender dynamics, power relations, and conflicts at ICTA-UAB. In 2021, a working group made of predoctoral, and postdoctoral researchers was created to start addressing gender inequities from a diversity of angles. During 2022, ICTA-UAB commissioned a gender audit to an expert group, Punt 6, which was then followed by the write-up and adoption of the Gender Equity Policy.
Strategic lines and their specific objectives
Representation of female and non-binary scientists



1.1. To strive for gender balance across all ICTA-UAB professional categories, maintaining gender parity in those groups where it already exists (PhDs and Postdocs) and working for an increase in the number of female and non-binary scientists in senior positions and the improvement of their working conditions in all fields.

1.2. To achieve gender equity in institutional representation while eliminating barriers that prevent female and non-binary scientists from accessing leadership positions.


Working conditions and work-life balance



2.1. To improve the contractual structure between male, female, and non-binary scientists, tending towards parity in all its typologies and supporting applications of female and non-binary researchers for permanent positions.

2.2. To balance the salary structure in all areas, by eliminating gender differences, analysing and eliminating factors that could lead to direct or indirect discrimination.

2.3. To develop gender criteria in the new and existing mechanisms of recognition and professional development that affect the salary and employment stability of female and non-binary scientists.

2.4. To facilitate the dissemination and knowledge of measures for the reconciliation of personal, work and family life and guarantee the right to adopt these measures, without this reconciliation harming women's scientific careers.


Gender awareness



3.1. To promote institutional awareness of gender equity at all levels and in all research groups, in order to consolidate an institutional culture free of discrimination based on gender and other intersectional variables.

3.2. To deepen gender mainstreaming in all areas of work and all research groups, fostering a culture that promotes gender equity throughout the scientific career and incorporating the gender equity dimension as a factor/indicator of research quality.


Non-sexist and inclusive language



4.1. To promote the use of inclusive language and the gender perspective in ICTA-UAB's communication.

4.2. To increase the visibility of the academic excellence of ICTA-UAB female and nonbinary scientists in terms of research and knowledge transfer.


Prevention of gender-based discrimination and harassment



5.1. To guarantee a work environment free of discrimination and sexual or gender-based harassment through the implementation of the necessary instruments to prevent and address it