Bachelor's Degree in Tourism
Presentation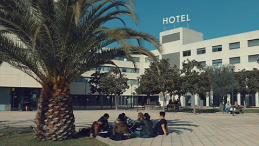 The Bachelor's Degree in Tourism of the UAB provides training that is innovative, rigorous, deeply rooted in professional practice and highly specialised. Students will obtain a general insight into tourism and knowledge of specific areas of management and planning, in organisations, activities, destinations, products and resources.
This course, taught by the University School of Tourism and Hotel Management, combines humanistic themes, communication skills, specific working techniques and computer tools. Students receive personalised academic tutoring to guide their subsequent entry into employment. They also work on communication skills in at least three foreign languages, through international exchanges and subjects taught in English.
The Degree in Tourism offers three specialisations: Tourism Business Management, Tourism Planning and Sales, and Hotel Management. These specialisations respond to the demand for professionals in this sector, to career profiles and options in the different areas, to the variety of tourism organisations, to the multiple sub-sectors within tourism, to segmentation in levels of professional responsibility, to business management and to tourism planning.
From the beginning, the programme puts its students in contact with the sector itself, through placements in top-level organisations, both national and international, a specific jobs bank to help students find employment and a Centre for University Entrepreneurial Initiatives. Moreover, the Hotel Campus, on the university campus, provides an ideal context for putting knowledge into practice.
Student Profile
This degree is aimed at students with an interest in training to be creative, entrepreneurial and versatile professionals in the world of tourism with a collaborative, participative and also critical and responsible attitude to enable them to make their own decisions, and have a receptive attitude in order to acquire solid knowledge, skills and abilities for the management, direction and organisation in different areas of the tourist industry.
Career options
The versatility of graduates in Tourism means they can work in many roles within the tourism sector and other related sectors. The main areas of employment for graduates are:
Tourism establishments and services, tourism promotion agencies and tourist offices.
Companies dealing with the complementary tourism offer associated with the place of destination and thematic tourist activities.
Accommodation companies. Reception, banquets and conventions, quality and customer care departments and purchasing and sales personnel.
Companies related to the creation, distribution and commercialisation of advisory services and products for tourism wholesalers and travel agents.
Tourism research for public and private institutions.
Consultancies.
Teaching.
Business start-up.
The school has a specific job centre which provides 86% employment.
Evaluation
Methodology ECTS credits involved continuous assessment assess Work Experience.
Timetables
Mornings (2 shifts).
Academic calendar
Learning resources
Pre-enrolment code:
21059
120 places
Number of credits:
240
Duration:
4 years
Language:
Catalan, Spanish and English
Price per credit: 82 euros

Specific scholarships:
8 subsidy and promotion support grants
2 research support grants
1 academic excellence grant for students at the centre
Check the website for grant amounts.
Classroom-based learning
Period of study:
Six-monthly
Part-time or full-time:
Full-time
Social Sciences and Law
Contact us for more information filling in this form: *Required fields
Once the form has been sent in you will get a confirmation e-mail