Credits recognition

Credit recognition for undergraduate students at the UAB

Where can I find information about credits? You can find here the UAB academic regulations.
Yes. The UABrecognises credits for the accreditation of languages on the presentation of a certificate that show the specific level of the European Common Framework of Reference for Languages has been passed. This certificate is issued by the Language Service or other recognised organisations.
By presenting the accreditation of the level passed to your academic management office.
All foreign languages. Also, students who went to school in Catalonia or in other Autonomous communities of Spain with certificates recognised as equivalent in their mother tongue can have level C2 recognised in that language.

Language exams accredited by level must have been passed during the degree course or even before arrival at the UAB.

The UAB recognises a maximum of 12 credits.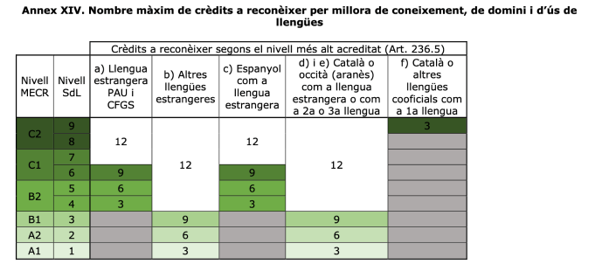 Yes. Certificate C2 in Catalan gives you the right to 3 credits.
Credits are recognised only for courses leading to levels A1, A2, B1, B2.1, B2.2, C1.1 or higher of the CEFR.
You can apply for credit recognition for language courses and exams at any time during your degree studies. We recommend that you do so during your final year.
To apply for recognition of ECTS credits for language courses and certificates contact the Academic Management office in your centre.
Your home university will give you this information, according to its transfer credit policy.