What they are?
Open Educational Resources (OER) are "teaching, learning and research materials in any medium, digital or otherwise, that are in the public domain or published under an open license that allows free access, as well as its use, adaptation and redistribution by others without any or limited restrictions" (UNESCO, Paris Declaration on Open Educational Resources 2012).
OER can be courses, didactic modules, exercises, simulations, textbooks, games, multimedia material and other types of teaching and learning materials.
Watch this short video to learn more: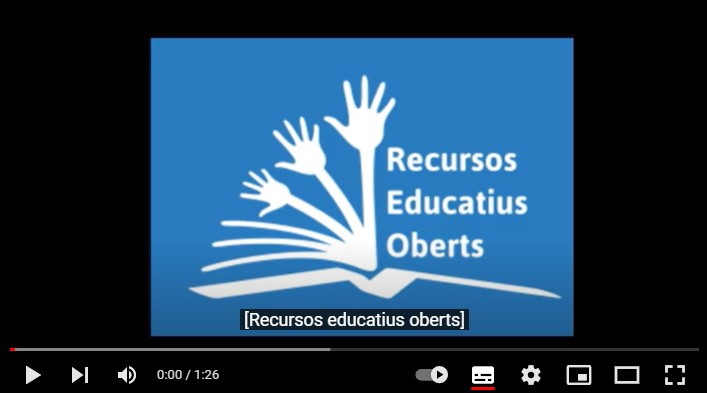 OERs (Open Educational Resources) are one of the elements that make up the new research model, Open Science.
Open Science is the practice of science in such a way that others can collaborate and contribute, where research data, lab notes and other research processes are freely available, under terms that enable reuse, redistribution and reproduction of the research and its underlying data and methods. (FOSTER: Open Science Definition)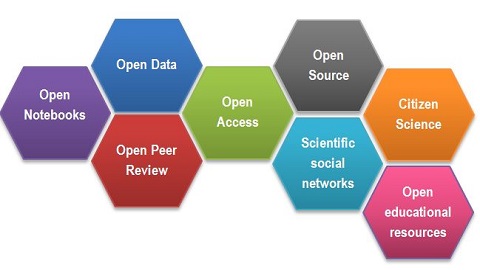 Source: https://www.fosteropenscience.eu/content/what-open-science-introduction
The open education movement aims to reduce the digital divide and support more affordable and effective teaching and learning.
These are concepts that define the rights to use resources and authorize:
Retain: the right to make, have or manage copies of the content.
Reuse: right to reuse the content.
Revise: right to modify and adapt the content.
Remix: the right to combine the original content with other materials to create new ones.
Redistribute: the right to share copies of the original, modified or remixed content with others.
The 5 Rs of OER are attributed to the 5 Rs of Openness by David Wiley and the explanation can be found on his blog Open Content.
These rights or permissions are represented by the implementation of open licenses, usually Creative Commons licenses. The UAB recommends the use of various CC licenses depending on the type of document: CC licenses recommended at the UAB.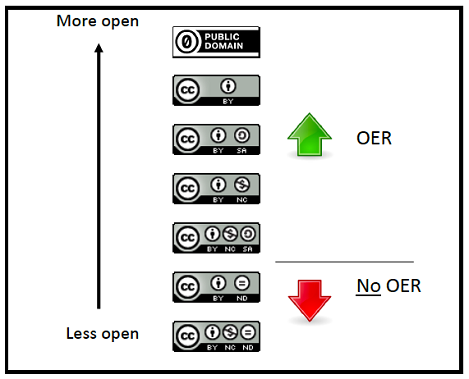 We can see that some licenses do not allow some uses of the work, such as the generation of derivative works, which would be incompatible with the features we have mentioned. These materials could be good learning materials and be freely accessible, but we could not qualify them as open according to the OER parameters.
You can consult the presentation Intellectual property in the teaching and research work of the PDI (in Catalan) if you have any doubts about this matter.
When you create an OER, you...
Contribute to knowledge sharing.

Complement and improve your academic profile.

Boost innovation in teaching and learning.

Allow free access to quality teaching material.

Reduce the cost of education for students.

Increase the prestige of the UAB by promoting a more open education.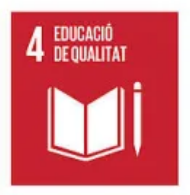 Sustainable Development Goal 4 (SDO4): Quality education.
For more information: Sustainable development goals.