Publish
Once you have created your OER you can publish it on platforms or repositories such as the UAB Digital Repository of Documents (DDD), Merlot or OERCommons, in this way it is available to the educational community in open access. You'll need to assign a license detailing its permitted uses, without requiring permission.
The UAB offers you the DDD to publish your OER. The recommendation is that you do so under a Creative Commons CC-BY-NC-SA (Attribution (BY), NonCommercial (NC) and Share Alike (SA) License.

.
If you reuse materials, remember to check compatibility between licenses: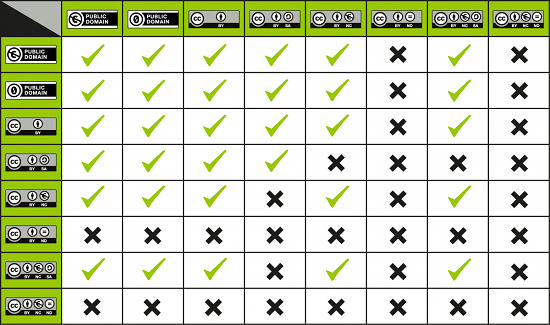 (Source: Wiki/cc license compatibility)
The UAB also recommends licenses for other materials: Creative Commons licenses recommended to the UAB.
To find out how to publish in the DDD, see our guide: How to deliver documents to the UAB Digital Repository of Documents.
The Creative Commons license for teaching materials recommended at the UAB is that of attribution (BY), non-commercial (NC) and share alike (SA) that allows to comply with all the requirements of the OERs.
The Intellectual Property and Open Access web provides you with answers to the most frequently asked questions related to teaching and teaching materials, consult it and if you do not find the answer you want, ask a question directly through the same blog.
It is important that the license is incorporated within the resource and easily identifiable. It is also necessary that it is attached to the UAB logo.
To generate the license you can follow the steps below:
Go to

the

License Generator

In the License Features

section

, choose what you want to allow you to do with your materials. The UAB recommends for OER to share under the same license without commercial uses

:

In the chosen license

section

, click on the link Attribution-NonCommercial-ShareAlike 4.0 International to generate the license:


Copy the URL

https://creativecommons.org/licenses/by-nc-sa/4.0/

and link it to the license image
1. Before you start:
Prioritize resource usage with open licenses.

Check if you can take advantage

of the

right to cite

or if you need to ask permission.

Cite

third-party

materials.
2. During the elaboration:
Add to the title page: authorship, affiliation, date, UAB logo, license of permitted uses (associated with the UAB logo).

Clear and descriptive title.

Contact email address, preferably the institutional address.
3. When publishing:
Use an open file format, preferably pdf, mp4, jpg, etc.

Choose an open license.

Publish in the UAB Institutional Repository (

DDD)

or in a specific repository for teaching materials. If you have created a textbook, you can consider publishing it

in

Open Book Publishers

(UAB is a member) or in

the

Publications Service of the UAB.

Use the permalink to disseminate your OER on social networks and the Virtual Campus (

How to share a link to the Virtual Campus

).

You can also publish updated versions of the materials.