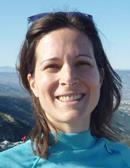 CV
Grups de recerca

- GRUMETS "Mètodes i aplicacions en teledetecció i sistemes d'informació geográfica". Dep. de Geografia de la Universitat Autònoma de Barcelona.

Línies de recerca

Her research interest focuses on the thermal infrared remote sensing, in general, and the estimation of energy exchanges between the surface and the atmosphere, in particular. In the medium term, her interests include the evaluation, validation and improvement of methods used to estimate biophysical variables from satellite data (i.e., emissivity, surface temperature, albedo), required for the estimation of net radiation, the main driver of surface energy balance and evapotranspiration. Special emphasis is put on the uncertainty assessment. In the long term, her interests are focused on the study of the hydrology, the climate, the ecosystem change and the Earth's radiant energy budget. She actively participates in the elaboration and evaluation of an evapotranspiration mapping tool (EVASPA), which produces evapotranspiration maps at relevant spatial and time scales for hydrological and agronomical purposes using satellite data. Further, she is specialized in the in situ estimation of surface emissivity in thermal infrared, using the Box method and the Temperature and Emissivity Separation algorithm, and therefore with the use and calibration of several types of thermal infrared radiometers. Recently, she is getting experience in the spectroscopy area using field spectroradiometers measuring spectra from visible to thermal infrared domain, and data from airborne hyperspectral sensors.

Projectes

- ACAPI Global Change analysis of the Iberian Peninsula: A 1950-2030 climate and land cover integrated lab. Xavier Pons and Miquel Ninyerola (UAB). Spanish Ministry of Economy and Competitiveness. 2016/01/01-2018/12/31.

- EVA2-IRT (v1.0, v2.0, v3.0), EVAluation des produits EVApotranspiration issus de l'Infra Rouge Thermique. Centre Nationale D'Études Spatiales (CNES). Albert Olioso (INRA). 01/04/2012-30/06/2015.

- SIRRIMED, Sustainable use of irrigation water in the Mediterranean region. European Comission under the EFP7 Cooperation Theme "Food, Fisheries and Biotechnologies". Juan José Alarcón Cabañero (INRA). 01/07/2010-31/12/2013.

- PROMETEO/2009/086, El uso de la Teledetección para una mejor comprensión del cambio climático. Generalitat Valenciana. Vicente Caselles Miralles (Universitat de València). 01/07/2009-30/06/2013.

- Traitement et application de séries temporelles d'images LANDSAT pour préparer l'utilisation de Venμs et Sentinel2. Centre Nationale D'Études Spatiales (CNES). Dominique Courault (INRA). 01/11/2011-31/01/2012.

Publicacions

- Mira M, Olioso A, Gallego-Elvira B, Courault D, Garrigues S, Marloie O, Hagolle O, Guillevic P, & Boulet G (2016). Uncertainty assessment of surface net radiation derived from Landsat images. Remote Sensing of Environment, 175, 251-270.

- Mira M, Weiss M, Baret F, Courault D, Hagolle O, Gallego-Elvira B, & Olioso A (2015). The MODIS (collection V006) BRDF/albedo product MCD43D: temporal course evaluated over agricultural landscape. Remote Sensing of Environment, 170, 216-228.

- Gallego-Elvira B, Olioso A, Mira M, Reyes-Castillo S, Boulet G, Marloie O, Garrigues S, Courault D, Weiss M, Chauvelon P, Boutron O (2013). EVASPA (EVapotranspiration Assessment from SPAce) tool: and overview. Procedia Environmental Sciences, 19, 303-310. Open access: http://www.sciencedirect.com/science/article/pii/S1878029613003058

- García-Santos V, Valor E, Caselles V, Mira M, Galve JM, & Coll C (2013). Evaluation of different methods to retrieve the hemispherical downwelling irradiance in the thermal infrared region for field measurements. IEEE Transactions on Geoscience and Remote Sensing, 99, 1-11.

- Coll C, Valor E, Galve JM, Mira M, Bisquert M, García-Santos V, Caselles E, & Caselles V (2012). Long-term accuracy assessment of land surface temperatures derived from the Advanced Along-Track Scanning Radiometer. Remote Sensing of Environment, 116, 211-225.

Altres informacions

- Participació com a docent al "Màster en Teledetecció i SIG" de la Universitat Autònoma de Barcelona (des de 2013).
- Participació com a docent al "Grau en Geografia i Ordenació del Territori" de la Universitat Autònoma de Barcelona (curs 2015-2016).
- Participació com a docent al "Màster Oficial en Teledetecció" de la Universitat de València (des de 2011).
- Participació com a docent a les titulacions universitàries de "Química", "Nutrició i Dietètica" i "Medi Ambient" (cursos 2005-2010).