Sponsorship
Amazon
The UAB has signed a contract with Amazon by which any purchase of any product made in this online platform using the UAB catalog link will report to the University a percentage of the purchase (with no additional cost to the user) that, to improve the content of thematic collections, will be used in the acquisition of bibliography.

This contract is part of the Amazon partner program, who have also been signed other universities and libraries worldwide.

This way, the next time you're buying books, CD, DVD or any other items from Amazon, if you do it from the button

of our search engine, you will benefit the entire university community. You will find this button on the right side of any document in the catalog available from Amazon:

Once selected the option buy, a warning popup will appear indicating that you are leaving the catalog and entering in Amazon, and that this platform has an own cookies policy: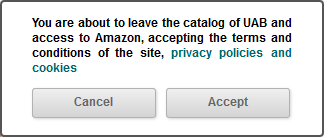 Purchases made at Amazon are direct purchases to this company. The Universitat Autònoma de Barcelona is not responsible for any breach and / or incidence that may arise. Likewise, the university is not responsible for the material offered on platforms managed by external parties. The UAB Library Service is willing to promote agreements with other libraries and institutions in order to improve the services offered to users.