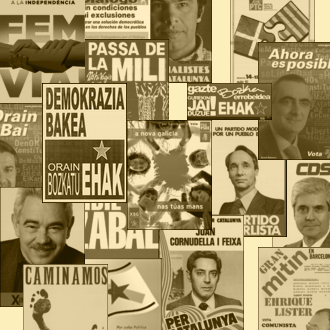 Political posters
Col·leccions Especials
Communication Library and General Newspaper Archives
Collection of political posters from 1970 to the present in paper and digital format. It includes advertising of political parties, unions, organisations, etc.

The paper collection comes from the Documentation Center of Communication (CEDOC), section of the Communication Library and General Newspaper Archive of the Universitat Autònoma de Barcelona.

It is an ongoing collection. The posters reflect the political activity of the mentioned period with political campaign advertising and advertising of political parties of general, regional and local scope, unions and civil society organisations. Standing out, a group of posters of international scope of several decades of the twentieth century, mainly from Italy and Chile, as well as some from France, Portugal, Greece and the Soviet Union. Part of the collection (6,269 posters) has been digitised. The virtual collection was expanded with the personal collection of Josep Vinyals. Currently and through an innovative project, the compilation of posters is done directly through the twitter social network.

Collection description: The documentary collection is formed by 15,000 posters in paper format and 10,338 posters in digital format.

Collection deadlines: 1970-To the present

Depositary library: Communication Library and General Newspaper Archives. CEDOC

Where to find the documentation:
Rights
: The user agrees to use this documentation only for research purposes, to cite the source, and to deliver to the Library any work resulting from the research. The access or the reproduction of the documents does not presuppose any right regarding the intellectual property of the content of the documents. Any use contrary to the legislation that regulates it and the rights it generates will be responsibility of the user.
Contact
:
bib.comunicacio@uab.cat