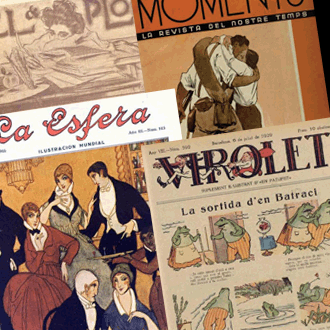 Antique magazines of art and culture
Col·leccions Especials
Communication Library and General Newspaper Archives
Collection of artistic and literary magazines, mainly Catalan, between the beginning of the nineteenth century and the mid-twentieth century. The importance of the collection lies in it's quantitative and qualitative reach. The publications include all the literary, poetic and artistic production of an era that includes artistic movements covering from modernism to more avant-garde movements.
The chronological coverage of the collection offers the researcher an inestimable source for the study of this historical period, rich in artistic creation and in the reconstruction of a Catalan national identity.

Description of the collection: It includes 600 titles of magazines, most of them in an excellent state of conservation. The diverse digitisation projects carried out contribute to the preservation of this heritage, which can be consulted through diverse digital repositories, DDD, MDC or ARCA.
Collection deadlines
: 1805-1960
Incorporation date of the Collection
: 1971-1998
Depositary library
: Communication Library and General Newspaper Archives
Where to find the documentation
:
Rights
: The user agrees to use this documentation only for research purposes, to cite the source, and to deliver to the Library any work resulting from the research. The access or the reproduction of the documents does not presuppose any right regarding the intellectual property of the content of the documents. Any use contrary to the legislation that regulates it and the rights it generates will be responsibility of the user.
Contact
:
bib.comunicacio@uab.cat