The UAB Open Labs manufacture ventilators for hospitals
The open innovation laboratories, the UAB Open Labs, have begun this week to print out ventilators for hospitals, in collaboration with the Medical Association of Barcelona (CoMB) and the 3D Laboratory of the Parc Taulí University Hospital.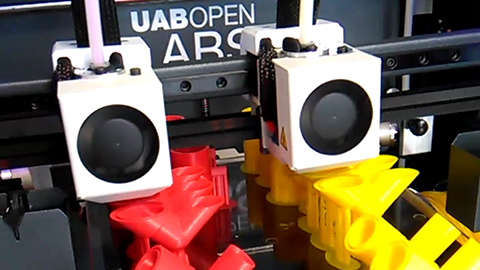 The UAB Open Labs hasd begun to produce ventilators with the three 3D printers located at the School of Engineering, one of which is on loan from the Department of Chemical, Biological and Environmental Engineering. Alfons Miàs, in charge of the production, calculates that with the machinery and material available, a total of 50 units will be printed each week.
The 3D Printing and Surgical Planning Service (3D Laboratory) at the Institute for Research and Innovation Parc Taulí, acting as expert centre in the medical applications of 3D printing, validated the clinical use of this equipment and has made the catalogue available to the 3D printing community with details of the technical parameters of design, material requirements and printing parameters.
These parts of a mechanical ventilator were designed at the Leitat technological centre, and in these precise moments are being homologated by the Spanish Agency of Medicines and Medical Devices. The design and components have been simplified with the aim of developing a robust, useful and less complex medical device, with easier production and assembly.
Once the different parts are produced by the UAB Open Labs, they are cleaned and sent to the Medical Association of Barcelona, which checks all components one last time before distributing them to the healthcare centres.
This initiative was launched by the online community known as the Coronavirus makers, in which people from around the globe exchange information on how to quickly and cheaply manufacture equipment and devices that can aid in attending patients infected withCovid-19.
In addiiton to the contributions made by the UAB Open Labs, the UAB campus has also launched a series of initiatives linked to the maker culture which is working together against this pandemic. For instance, Ernesto Asensio and Jordi Font, technicians at the Department of Physics and at the Image Treatment Services, are manufacturing protective face equipment.
If you have any devices or material you consider may be useful, please contact openlabs@uab.cat.