New health screenings at the Bellaterra campus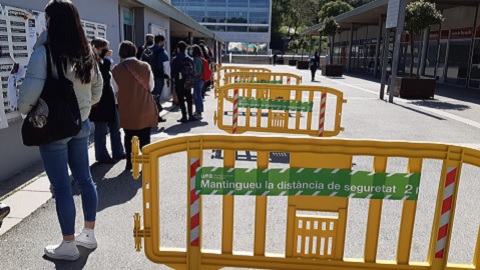 All UAB students, lecturers and administrative workers can take a test to see if they are currently infected with Covid-19 or have already had it. Screenings will take place at the Bellaterra campus from 5 to 7 May.
04/05/2021
From 5 to 7 May, the Government of Catalonia's Ministry for Health invites all members of the UAB to participate in a health screening to detect asymptomatic cases and those who have already had Covid-19. The screenings will take place on Wednesday 5 May and Thursday 6 May at the Plaça Cívica, in front of the pharmacy, from 9:30 a.m. to 7 p.m., and on Friday 7 May from 9 a.m. to 3 p.m.
Thanks to the excellent response of the UAB community during the first health screenings conducted in April, the Ministry for Health has decided to hold a second screening at the Bellaterra campus. The objective continues to be the same, to detect asymptomatic cases of the virus in order to break transmission chains, and discover those who have already had COVID-19.
During last month's screenings, the UAB collected data from 10,511 people, practically half of all data collected at different universities throughout Catalonia. The percentage of positive PCR tests at the UAB was a mere 0.56%, far below the average of Catalonia's tested population. A total of 3.54 % of the serological tests yielded positive, which indicates the percentage of people who had already had the virus.
Who is eligible for a screening?
Both screenings are voluntary and free. They are addressed to asymptomatic people who have not been vaccinated. Those who have already had COVID-19 can also participate. Although the screening is aimed at members of the university community, it is open to everyone interested in taking the tests. Those who participated in the screenigs held from 8 to 15 April can repeat the tests, if they wish to do so. However, people with symptoms compatible to COVID-19 or those who have been vaccinated with one or two doses will not be allowed to participate in these screenings.
Two different tests will be available: a PCR through a nasal self swab sample and a rapid serology screening with a capillary blood sample. Each test is voluntary and each person can decide whether to take both tests, or only one. However, if you wish to take the serology test, you must also take the PCR test. In order to participate in these screenings, it is necessary to bring along your health card or CatSalut card, or your ID or passport.
To avoid crowds, once the samples are collected the results will be posted in each person's La Meva Salut account. Those who do not have a CatSalut health card will receive their results via e-mail.
This information is related to the following SDG
Good health and well-being