Project presenting alternative material to plastic wins the 10th edition of Generating Ideas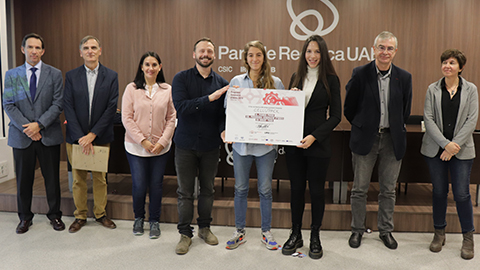 Cellupack was chosen as the most innovative project of the Generating Ideas Programme on Smart Food. Ot proposes the use of cellulose-based materials as substitutes for a variety of single-use plastic packagings. The material is biodegradable, soluble and with a minimum ecological footprint.
19/12/2019
Cellupack is one step ahead of the European regulation which will be put into force in 2021, forbidding all single-use plastic products, and seeks to develop a substitute material that is biodegradable, water soluble and edible, flavourless and odourless. This material can be manufactured at large scale and is very versatile, and can be used for different types of single-use packagings. It also fosters a circular economy given its dissolution and posterior regeneration and reuse, with minimum energy consumption.

The company Carburos Metálicos has already shown interest in the project and has offered to house the validation tests of the new products. At the moment, Cellupack is still in the prototype phase and will be able to make use of the new network of innovation laboratories located onn the UAB campus, the UAB Open Labs.

The multidisciplinary team at Cellupack met during the Generating Ideas Programme and is now formed by Michele Dei, researcher at the Institute of Microelectronics of Barcelona (IMB-CNM), Camilla Dore, engineer in nanotechnology and PhD student of the Institute for Materials Science (ICMAB), and food technologist Elena Jacas.

The winning project was chosen by a jury formed by the Head of the Agrofood Innovative Unit of the Ministry for Agriculture Maria Josep Ribot; R&D&i Coordinator of the Catalan Federation of Agrarian Cooperatives of Catalonia Màrius Simon; Director of Food Projects at Grup Carinsa Alfons Perote; Professor of the Department of Animal and Food Science Buenaventura Guarnis, and Manager of R&D&i Projects at ACCIÓ Cristina Peña.

The Generating Ideas Programme aims to create synergies between researchers, organisations and businesses. This 10th edition was funded by the UAB Social Council, the Barcelona Synchrotron Park and the company Andrés Pintaluba. It also formed part of the European project Higher.