Mediation Workshop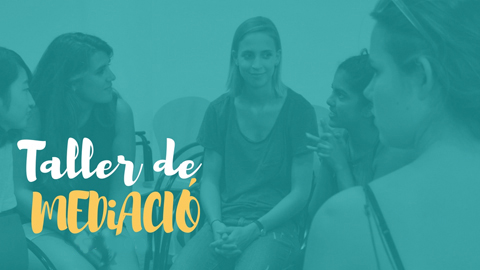 Everyday conflicts between people who live together are commonplace. Everybody has their own opinion or perspective on things. This tension can lead to confrontations that might end harming all parts involved but, if we learn to deal with tension and remove it, it can produce the opposite effect.

This mediation workshop seeks to deal with conflicts from a restorative approach by learning the mediation process and analyzing the methods we can use to carry it out successfully, both as mediators and parties concerned.

Furthermore, we will reflect on the university environment and explore the ways in which we can apply mediation techniques and restorative methods so that there is a better relationship between community members at the UAB. This workshop offers an introduction to mediation and restorative methods and provides tools to settle conflicts in a constructive manner and apply all this knowledge in class.

Content
This workshop offers mediation techniques based on mutual respect at the university through case studies. Before the workshop, there will be an introductory session to the university involvement platforms we have here at the UAB.

Who may sign up for the workshop?
Students interested in this area, especially those who are currently holding a position as student representatives.

When?
SUMMER 2019 THIS WORKSHOP IS NOT AVAILABLE

Where?
L'Àgora (R Building)
Plaça Cívica
UAB Campus

Cost
€25
This activity may be recognized with 1 ECTS credit.

Attendance and active involvement in 80% of the workshop is required for credit recognition, as well as a group paper supervised by the organizers of the workshop.

Enrollment
Registration closed.