Linguistic and cultural diversity on Campus
Linguistic and cultural diversity on Campus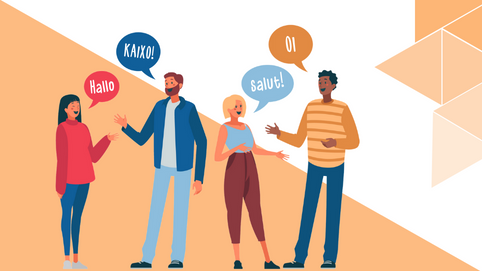 We want to publicise cultural and linguistic diversity on campus from a range of activities promoted by foreign promotion centres or consular centres that are linked to our offer of studies. An introductory session will be held accompanied by teachers, students and/or speakers of these languages.
Of the eight dates indicated in the programme, six will be devoted to the specific promotion of a language or culture (for the moment: Galician, Basque, German, Portuguese, Italian and Romanian).
Activities will not be carried out in a conventional classroom or intended to be a class zero, but will provide an area of dialogue in which each language is presented in a unique way in its linguistic, geographical and cultural characterisation. In addition, a language fair will be organized in the UAB in a central campus space. Other activities will include express language classes, translation/interpretation workshop, musical performances, etc. The activities will be directed by the faculty attached to some Modern Language of the Faculty of Letters or some cultural center linked to the UAB.
5 October: Languages and activities presentation session.
November 7: Galician language and culture.
13 December: Bascan language and culture
12 January: German Language and Culture
14 February: UAB Language and Culture Fair
15 March: Portuguese language and culture
20 April: Italian Language and Culture
12 May: Romanian language and culture.
Always between 13h and 15h
Consoles, foreign cultural promotion institutes or related entities in each of the languages will also offer some complementary activity: dance, theatre, cinema, music inside or outside the UAB campus. We are therefore planning to double the prescribed schedule of eight activities with eight out-of-programme activities. The activities and the calendar will be specified during the course.
Priority use will be made of spaces not linked to the usual aular. Case of the Faculty of Letters, we would like to perform the activities in the Journal Room, Library of Humanities and, as far as possible, outdoor spaces of the campus: Civic Square, Knowledge Square, etc.
Any student enrolled in the UAB.
You can participate in one-time sessions that generate more interest or sign up to the whole cycle thus achieving academic recognition.
What should be done to gain academic recognition?
You must fill in the following form before 30 September and participate at least 85% of the sessions. In this way you can, as well as enjoy the experience of participating, recognize 3 ECTS in your academic file.