Sant Jordi 2021
Community reading of Sant Jordi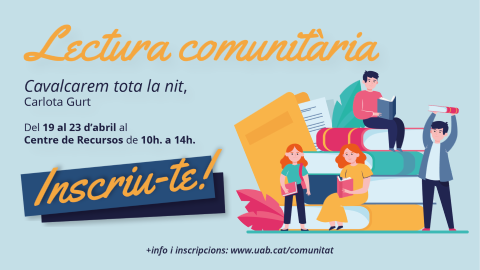 This Sant Jordi is very unique as with the restrictions we cannot celebrate it as we have usually done on campus, precisely for this reason it is even more important to do things together. For that reason we invite you to do a community reading of the work: Calvalcarem tota la nit by Carlota Gurt.
If you come to campus, stop by Centre de Recursos and participate in the community reading of this Sant Jordi on the UAB campus.
The publisher Proa, company which has published the work, describes it as follows: "To ride all night is to advance in the dark towards borders that seem unstable, but are not always as so. To ride all night is not to lose heart and to chase the moon, indefatigable. Riding all night is not being afraid to fight the darkness that we carry within or that comes from the outside. Characters that could be your neighbor, your daughter, your shop assistant or yourself star in this compilation juggling with the love that withers in the fingers, the life that takes them and the duty that hangs them. There are stories with invigorating doses of humor and bad slobber, which arouse smiles but also uneasiness. Carlota Gurt makes us cross the abyss of freedom by the tightrope tread with desire and fear. An impetuous and talented literary debut".
To participate we will meet in front of Centre de Recursos (in Plaça Cívica, next to Hemeroteca, here you have the location), we will give you the fragment to read and we will record you. You can do it from Monday the 19th to Friday the 23rd of April between 10am and 2pm. Registration at this link is needed so fill in the form with your day and time, you can do it when you visit the equipment.
Among the participants we will raffle 10 copies of Carlota Gurt's work. The compilation of all the readings, with your participation, will be published on the Community Involvement's YouTube channel.