International Welcome Olympics (IWO)
International Welcome Olympics (IWO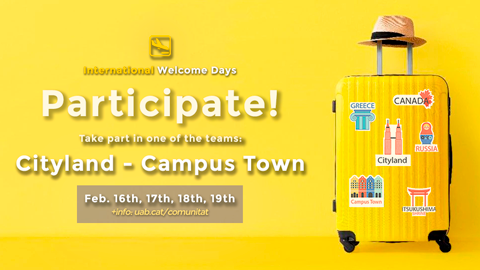 Within the International Welcome Days and given the health situation and the impossibility of carrying out activities on campus, this semester, in order to welcome international students, the virtual International Welcome Olympics (IWO) will be held.
There are going to be two teams, led by mentors, which will be created according to the preferences of each student being able to choose between the City or the Campus. So, both teams will compete throughout the week to see who is the big winner: Cityland or Campustown.

On February 16th, 17th and 18th, participants will have to participate in different activities in order to win points for their team. On Friday 19th we will celebrate the IWD Closing Grand Gala also announcing the winner of the First UAB International Welcome Olympics.

The activities that will take place during the week are:
Tuesday, February 16
Catalan culture and traditions activity.
Wednesday, February 17
Recipes of the world.
Thursday, February 18
Costume contest.

Do you want to take part in the First Cityland-Campustown Olympics?


Just sign up on the form below and from the Community Development Unit we'll get back to you!