Photographic exhibition "Els Ulls de Ningú" at the UAB Medical Library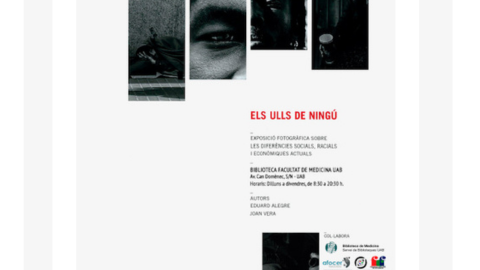 Photographic exhibition on current social, racial and economic differences.
26/05/2023
From May 25th to June 30th, the exhibition "Els Ulls de Ningú", by photographers Edu Alegre and Joan Vera and curated by AFOCER, will be on display at the UAB Medical Library.
According to the authors, "this exhibition arises from our desire to show a reality that we live with on daily basis, but we tend to intentionally ignore too often. Photography serves us as the perfect tool to articulate different stories that personify the most forgotten and harsh part of society. Stories starring people with whom we share spaces, but who have become invisible to our eyes.
The project has been divided into two parts, each one created by a different photographer. Two realities. Two personal and unique visions.
Edu Alegre has focused his work on the daily life of different undocumented African immigrants. His images were captured in Barcelona and its periphery, where the protagonists do whatever it takes to survive; from scrap metal collection to street vending or illegal fishing.
Joan Vera wanted to portray the life of different people born in Catalonia who, for different reasons, have been forced to live on the street. A work mostly carried out in the heart of Barcelona, where tourism and fashion shops are combined with the harsh reality of those who appear in the photographs.
Our aim is that the combination of the two parts of the exhibition shows a faithful and interesting portrait that brings the viewer closer to a frequently unknown reality. We believe that this is a good opportunity to give voice to a part of our society that too many times we have wanted to hide under the rug. A chance to meet all these invisible neighbors and look them straight in the eye."
This information is related to the following SDG
Reduced inequalities

No poverty

Quality education