Innovative open education initiatives at UAB: OpenLabs and TEDxUABarcelona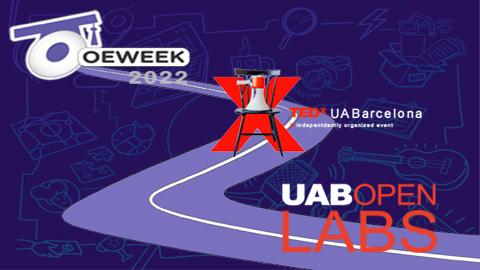 Open Education Week is an annual global initiative that aims to raise awareness of the benefits of implementing open-ended educational resources and practices, and this year takes place from 7 to 11 March.
22/02/2022
We invite you to participate in the talks that the Library Service and the CORE for Education and Employability have prepared to promote open education.
Date: 9 March 2022, 12 noon to 1:30 p.m.
Speakers:
Alfons Miás Miás - coordinator of UABOpenLabs. Department of Strategic Development of the UAB Research Area. Creation and process space manager. Cultural manager with a degree in art history.
David Hernández Salazar - Design and strategic innovation technician in the entrepreneurship unit of the UAB Research Park. Focused on creative and innovation processes. Industrial designer and research in design and innovation.
Aimed at: University community (PDI, PAS and Students)
Description: Explanation of two innovative experiences that are being developed on the UAB campus that are in line with open education. At the end there will be an open round of questions.
• OpenLabs: what they are and what spaces there are, in what context of the UAB it is included: open innovation UAB, how they are organized and what is the way of working: collaborative, cooperative work of the whole university community and territory ... exchange of educational practices and projects. Co-ideation between participants. Training tools industry 4.0 to bring the whole population closer (democratization of these tools) ..., what open education perspective do they encompass? Basic dimensions of openness (access, content, pedagogy, recognition, collaboration, and research). How the university community can address these labs.
• TEDxBarcelona: what it is, what is the purpose of this platform and the talks that take place on it, how to participate in it, how they contribute to open education and what impact they have. Once this general framework has been completed, the TEDxUABBarcelona initiative takes shape: objective, competition, the topic "Innovative thinking", training for the best 6 or 8 and encouraging them to apply to future editions of the UAB, if applicable.
Languages: Catalan and Spanish
Modality: Online through Teams. Join the session through this LINK.
No registration required.
Certificate of Attendance: Yes
This information is related to the following SDG
Peace, justice and strong institutions

Quality education