Exhibition "Almost 250 years of Molière in Catalan" at the Humanities Library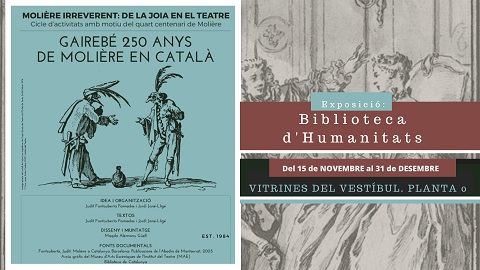 Exhibition "Almost 250 years of Molière in Catalan" at the Humanities Library
25/11/2022
As part of the cycle of activities on the occasion of the fourth centenary of Molière, the Humanities Library of the UAB hosts the exhibition "Almost 250 years of Molière in Catalan".

Molière is one of the most translated dramatic authors into Catalan throughout history and his works have been widely accepted by the public at different times.
That is why, as part of the commemoration of the fourth centenary of his birth, a cycle of activities has been organized with the title "Irreverent Molière: of joy in the theatre", which includes round tables, exhibitions , films and workshops that aim to reflect, in a certain way, the joyful spirit and enjoyment of theater represented by Molière.
The exhibition hosted by our library can be visited until December 31st in the showcases of the lobby, floor 0, of the Humanities Library.

See you there!
This information is related to the following SDG
Quality education