50th anniversary of the Faculty of Sciences, new exhibition at the Science and Technology Library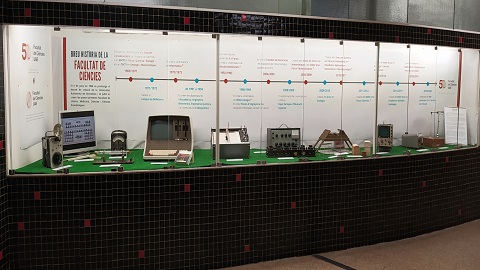 To commemorate the celebration, the Library's exhibition takes a historical tour of the most important milestones experienced by the Faculty of Sciences.
13/04/2021
The Faculty of Sciences began its activity in the academic year 1969-1970 in the Casa de Convalescència of the Hospital de Sant Pau and moved to the Bellaterra campus in the academic year 1971-1972, with five degrees: Physics, Chemistry, Biology, Geology and Mathematics.
In these fifty years, the Faculty has characterized by offering innovative studies and creating new professional profiles that are unique in the whole of Spain. This exhibition allows you to take a historical tour of the most important milestones that have taken place and see curious objects and instruments donated for the occasion. In addition, as a first, it will also display what will be the new logo of the Faculty based on the brand created for the anniversary.
With this exhibition, the Faculty of Sciences thanks all the people who have been part of it, and are currently involved (both students and teaching and research staff, and administrative staff), their work and dedication, which have made of the Faculty an academic institution of international prestige.
Come to visit the exhibition until May 6. See you there!
Photographs of the exhibition: http://ddd.uab.cat/record/238865