ICTs Recommendations
ICTs Recommendations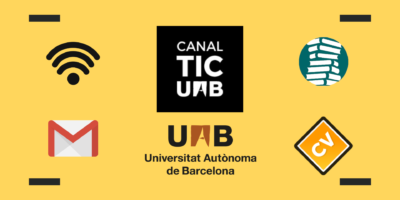 CANAL TIC periodically updates its blog posts:
Here are some recommendations to make your work, safety, and accessibility to data you may need for work easier:
Avoid saving data and files on your computer hard drive or USB drive due to the risk of losing the information if the device fails or cannot be retrieved by other devices. It is recommended that you save all files to OneDrive.
We also recommend that you move all files you regularly work with from the network drives (M:, N:, etc.) to OneDrive, so that you can readily access them when you need them from any device.
Decide what resources you need to work away from campus that may require a special procedure (for example, using programmes installed in one specific computer or staying within the UAB network). Contact the assistance and service centre (CAS) if you think you will find yourself in one of these situations.
If you think you will need your digital certificate for telematic processes or to sign documents, you will need to make a copy of it in order to install it into the computer you will be using. If you need to use someone else's digital certificate, you must first contact certificacio.digital@uab.cat.
Whenever possible, please contact support services (Centre d'Assistència i Suport) via e-mail at cas@uab.cat. This will help avoid too many phone calls and optimise available resources.