Viu el Campus SIS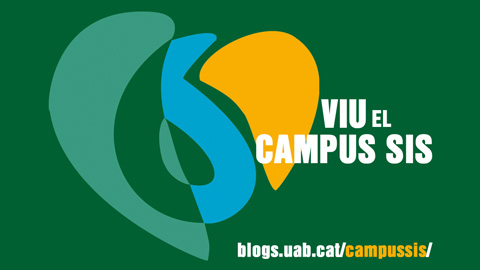 Campus SIS or Campus Saludable i Sostenible (Healthy and Sustainable Campus) is a project with two different goals: the promotion of healthy activities and the encouragement of sustainability on Campus. These two goals are aimed at everyone studying or working at the UAB. The Campus SIS project revolves around highly transversal activities to improve the university community's health by promoting a healthy environment and lifestyle. The activities are also designed to raise awareness about respect and sustainability at the UAB.

The Viu el Campus SIS card was launched this academic year and will allow students to participate in the activities organized by Campus SIS and to recognize two ECTS credits. To do so, just to fill in this form and make a €15 payment.

How to get the Viu el Campus SIS card:

1. Register by filling in this form.
2. Make a €15 payment.
3. Pick up your card from the Resource Centre for Student Societies any Thursday from 1 p.m. to 3 p.m.
4. Take part in the activities1 included in the Viu el Campus SIS blog.

Activities included:

You will be able to take part in the activities of the Setmana Saludable i Sostenible, in the Setmana de la Mobilitat Sostenible i Segura, in the ACTIVA'T i MOU-TE and in the UAB Cursa Solidària.2

1Prior registration is required for some of these activities.
2The Viu el Campus SIS card includes the registration fee for the UAB Cursa Solidària. When filling in your registration form, remember to tick the box for la Cursa to confirm your entry for the event and to receive more information about it.