The transformative power of art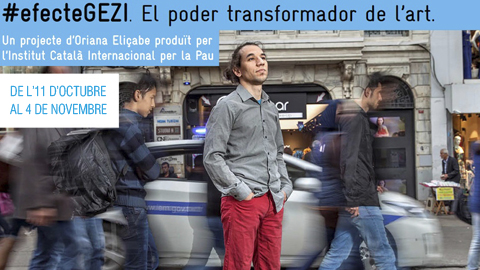 From 11th October to 4th November

Plaça del Coneixement


#GEZIeffect. The transformative power of art is a photo exhibition by Oriana Eliçabe, produced by the Institut Català Internacional per la Pau (ICIP) and loaned to the UAB. The exhibition aims to promote the culture of peace and nonviolence and give visibility to an event where nonviolence, creativity and solidarity strengthened social protests and created unexpected synergies.

Through the story of the events that took place in Istanbul during 2013, the exhibition illustrates how people of completely different backgrounds, culture, lifestyles and believes gathered in Gezi Park setting aside their differences and joined together in a nonviolent protest against a situation they considered to be unfair.Kurdish, Kemalists, Armenians, lay people, Muslims, activists from the LGBT movement, Galatasaray and Besiktas fans, and many other groups overcame old antagonisms, stereotypes and mutual mistrust in several peaceful and creative protests.

The exhibition will be on show at the UAB from 11 October to 4 November in the Plaça del Coneixement.

The author, Oriana Eliçabe (Argentina, 1972), is a photographer, a documentary maker and a cultural agitator. She is a member of Enmedio, a group that focuses on the combination of art and social activism. From there Eliçabe runs the TAF!, a photography workshop about urban intervention that encourages people to have a questioning attitude toward the contemporary uses of photography and its relation with social reality.

Find more information on the exhibitionand the dossier.