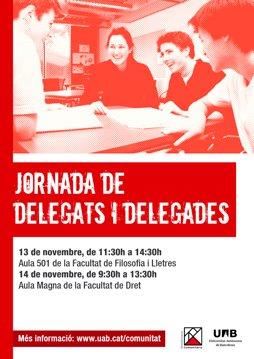 CLASS REPRESENTATIVE MEETING

13 and 14 November 2014


The UAB aims at promoting the figure of the delegate as the basic partners to enhance and promote a comprehensive model of education, where the student is the central character of the educational process and plays an active role in its own education.
That is why on 13 and 14 Novembre 2014, a Class Representative Meeting took place, where delegates of all UAB faculties enjoyed two intensive days in which they could get to know the normative that witholds them and the ressources offered by the Community Involvement Unit. Moreover, they could also have a closer look at the tools and structures to enssure a good academic follow-up and therefore successfully fullfill their task.