Mediation in Higher Education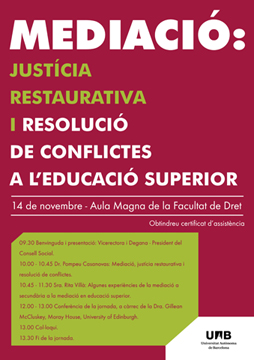 Cartell Jornada Mediaciˇ novembre 2014 UAB
On 14 November took place the conference Mediation: Restorative justice and conflict resolution in Higher Education, a training event about mediation and its introduction to university.

The conference was attended by experts on this field, such as Dr. Pompeu Casanovas (UAB), who talked about the European white paper on mediation, Dra. Rita Villà (UAB), who talked about the possibility of incorporating mediation in Higher Education and Dra. Gillean McCluskey, of the University of Edinburgh, who discussed the restorative perspectives as a process that could be applied in cases of conflicts in classrooms.

Through the following links you can download the experts' presentations:

Relational justice. By Pompeu Casanovas.

Mediation experiences in Secondary School applied to Higher Education. By Rita Villà.

Restorative approaches: resolving conflict, increasing participation. By Gillean McCluskey.
You can also download the presentation by Dra. McCluskey inCatalan.