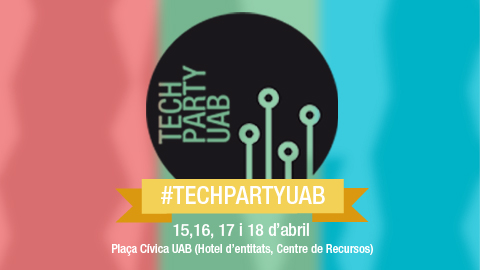 On
15, 16, 17 and 18 April
video game and new technology lovers will meet at the UAB Plaça Cívica because of the #TechPartyUAB!
The #TechPartyUAB is a meeting point for professionals and amateurs of video games, and people interested in technologies and new tendencies. Here participants will find the perfect place to discover developments in the field of technology.
The main attraction will be the
video games competition, or LAN Party
, which will have three video games competitions:
League of Legends
,
Hearthstone
and
Counter Strike
. If you want to attend, please
book your ticket.
There will also be other free activities open to the whole UAB community, such as
workshops
about videogames and new technologies.
Workshop programme. Here you can find the
registration form
.
Friday 15 April
10.30h a 12h Video game localization Workshop by Carme Mangiron, MTAV coordinator and Final Fantasy translator.

12h a 13.30h Round table: the world of youtubers.

15h a 16h Digital Literature, by the curator of the Paraules pixelades exhibit, Laura Borràs.

17h a 19h Documentary: Mujeres+Videojuegos. Cineforum by Marina Amores, documentary director, Judit Tur, tester and video games translator, and David Fernández, youtuber and journalist for EliteGamer.

Monday 18 April
10h a 12h Video game design Workshop, by the Master's Degree on Video Game Design of the School of Engineering.
Follow the updates for the #TechPartyUAB:
Facebook
Twitter
Video games competition rules:
League of Legends:
Team format: 5 members, one of them has to take the role of representative and spokesperson. There can be up to 2 replacements.
Tournament format: Two-legged tie
Game format: Best of 3, but the final will be best of 5
Counter Strike: GO:
Team format: 5 members, one of them has to take the role of representative and spokesperson. There can be up to 2 replacements.
Tournament format: Two-legged tie
Game format: De_dust2 map with ten rounds each faction per team