IWD Fira Col∑lectius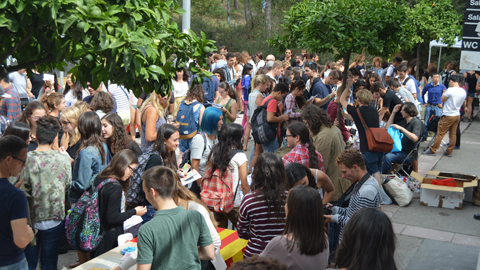 Students associations at the Fair of the International Welcome Days

Here you have some of the Students' Societies that you'll find in the Fair of the next Monday 12th February:

Centaures de la UAB
Rugby team of the UAB. It is addressed to people from all levels, both for beginners and for people that has already played rugby and wants to enjoy the experience of university rugby.
Facebook
Instagram

Colla Castellera Ganàpies de la UAB
Student society whose objective is the dissemination in the university community of the "castells", a typical Catalan activity, and all the values implied in this practice.
Email address
Web
Facebook
Twitter

Erasmus Student Network UAB
Association whose objective is to welcome UAB international students, make the formalities easier, to welcome them in Barcelona and make them know the city and the Catalan culture.
Email adress
Web
Facebook
Twitter
Instagram

Grups Bíblics Universitaris
Group of students who study the Bible. They make dissemination of it and they deduce and spread their practical applications for the daily life.
Email adress
Web
Facebook

Korean Club UAB
Student society interested in Korean culture-related activities such as Korean music, language, traditions, food, k-drama, etc.
Email
Twitter

Joventut Comunista de Catalunya
Youth organisation that fights for the rights of young Catalan workers.
Web
Facebook
Twitter
Youtube
Instagram

Club de Rol de la UAB
Organisation whose objective is to make people know about alternative leisure activities: role playing, board games, freak cinema, softcombat practices and collectable cards.
Email address
Web
Facebook
Twitter

UAB Quidditch Club
Sports society that encourages the development and regular practice of Quidditch Muggle in the University, both for leisure and competition purposes.
Email adress
Twitter
Facebook


AIESEC Bellaterra
International non-profit organization, global and apolitical, managed by students and recent graduates with the objective that their members complete their academic training with international mobility programmes.
Email adress
Web
Facebook
Twitter
Instagram
Youtube
Assemblea de vegans
Students that promote speciesism and veganism amongst universitary students.
Facebook
CampusRom - Xarxa Universitària Gitana de Catalunya
Group that cares about the interests of the gypsys. Their main goal is to support and help gypsy students before and during their studies, promote paticipation and lidering, and fight against the stereotypes and prejudices the gypsys suffer.
Email
Web
Facebook
Twitter
X-Wing & Magic
Students that want to creat a space in the UAB where all the members of the community interested in X-Wing can play and promote it. They can also organise tournaments.
Email
Societat Catalana de Nanociència i Nanotecnologia
Non-profit association compromised with the developement of nanoscience and nanotechnology that protects the interests of students and professionals. Their goal is to become a meeting point of the sector, to contribute to the spreading, innovation and formation in nanoscience and nanotechnology.
Email
Website
Facebook
Twitter
Instagram