ARE Service (Access to Electronic Resources at UAB) allows access from any device with Internet access located off campus to all electronic resources (books, journals and databases).

ARE are restricted to UAB community members, according with the conditions of use of these resources.

You can access ARE service through http://www.bib.uab.cat/are/ and login with your NIU and password.


You can also access using the button



This button is a mini application that allows you connect to the UAB network and view the electronic library resources at any time during your web navigation.

To use other services (remote desktop and network drives) from off campus, for PAS and PDI members, go through virtual private network (VPN).

More information about the VPN: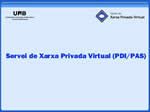 How to configure your remote
desktop and network units


For any questions about ARE service, plese contact to Pregunt@

For any questions please contact the Computing Service (Tel. 93 581 2100 - cas@uab.cat)